Highly pure minerals and natural additives blended together to make one easy to use water soluble product. Everything you need for your veg cycle.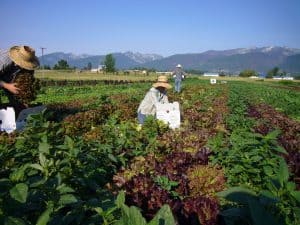 The USDA reports 1954 was Americas "peak" farmland year, when it was farming 1,206,355,000 acres. There was never as many acres farmed before or after. The latest USDA survey of farmland shows farmed acres have declined to 897,400,000 acres in 2019. This equates to a net loss of 308,955,000 acres
Read Entire Story »

Kevin S
"I want to thank you for all your help and great service this year. Your products let me feed my plants the things they need and I can leave out what they don't need. Mostly though I like being able to keep certain products on hand to add as needed. I really like being able to mix it up fresh to use as I need it. I don't have to worry about how old or weak it has gotten. I look forward to doing business with you in the coming years. Your quick service your great products and your free shipping within the USA even to Alaska is great. Best Wishes to you in the coming years. Thank you all at KELP4LESS"
Mark
"Started using Grow & Bloom packs for about a year now with astonishing results. I've noticed greener healthier plants with these two products. Leaves are larger & fully extended looking for light. Fruits are larger and the taste, yummy. Healthy plants are happy plants. Highly recommend."
Jason T
"Kelp4less is the best. I have used several products such as Extreme Blend with great success. Their web site is easy to use and the staff was easy to reach with questions. They were prompt and very helpful, answering all my questions. The products or wonderful and very easy to mix and use. This is a great company whom I will continue to use in the future."
Pete
"This stuff is amazing! I'd say my bud sites are up about 30%, and their quality is top notch! Compared to General Hydroponics, K4L's products blow them away, and at a fraction of the cost (and space in your garage!). I'm never wasting my money on any nutrient mix that's 99% water, 1% minerals again."
Dane T
"Kelp4Less.com is my little-known secret for horticultural prosperity. With years of collective farming intelligence, their dry nutrients will outperform, out-compete and outlast watered-down competitor products. Not to mention their shipping team is lightning fast! Whether you are a newcomer or an expert Kelp4Less.com can help you on your way to lush greenery without breaking your bank account."
Kim M
"I started buying from you a couple of years ago. Every product from you that I have purchased as been wonderful. This is my first year using the Extreme Blend and awakenings. All of my Flowers and trees are about 2 weeks ahead than compared from last year. I am excited to try more products in the future. I started building my soil up with Bat and worm castings last year. I had beautiful flowers till late fall. Thank you again"