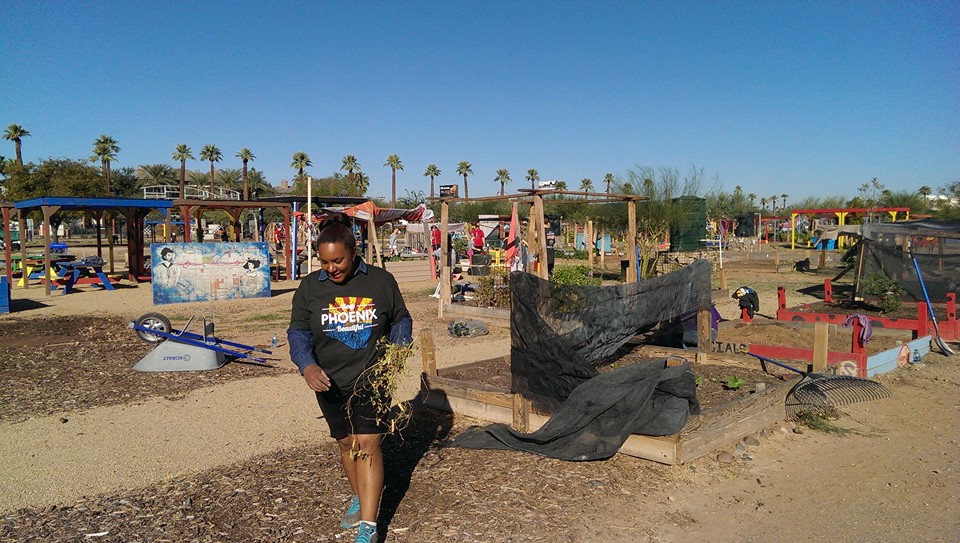 Touch the Soil News #289
Food and farming has become a domain of a growing number of non-profits. A recent story by Melanie Whyte of Arizona State University reveals just how far non-profit expressions of food and agriculture can go.
Domino #1
The city of Phoenix did a self-assessment and found that 43 percent of the total land in Phoenix was in vacant lots. The city helped form a coalition of local businesses and non-profits known as PHX Renews. PHX Renews began as a 15-acre project that embraces urban agriculture and other beautification projects. The ultimate goal is to find uses that are functional (urban food) and beautifying of the large number of vacant lots.
Domino #2
The International Rescue Committee operates a branch of its New Roots program on PHX Renews land. Here refugees – with farming backgrounds – can raise their own food.
Domino #3
The Mana House is a transitional living program in downtown Phoenix for Marines, Army, Navy and Air Force veterans. Its kitchen uses urban farming land on PHX Renews land to grow produce for meals. Project manager Ken Leonard says: "I grow it, I cook it, and I'm the Chef." The urban gardens of Mana House are also used to provide agricultural therapy for veteran experiencing PTSD.
Young people learning food gardening at the PHX Renews 15-acre urban site. (photo courtesy of PHX Renews)
Domino #4
The Mana House garden gives extra produce to other non-profits such as the UMOM New Day Center for women and families. In addition, food is donated to the Tumbleweed Youth Drop In Center, a non-profit for homeless children.
Domino #5
The Cultural Cup Food Bank – a food bank and free clinic for community members – also grows food on the PHX Renews land. The food bank hopes to grow enough crops to feed 30 families when crops are harvested.
Domino #6
The University of Arizona Cooperative Extension – mandated by Congress to help people wanting to farm – now uses PHX Renews land as an incubator farm for beginning farmers.
Today, PHX Renews provides water and supplies for 150 garden beds and constantly has a waiting list. Following is a short video clip on PHX Renews.
Want More? - Sign up below