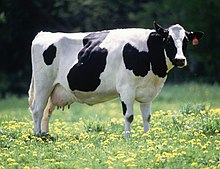 Positive Future #315 (Feature photo – A Holstein Dairy Cow – Public Domain)
The Netherlands – a nation known for their dairy farms – is home to the newest dairy innovation. It will be a floating dairy farm. At a cost of $3 million, the floating facility will house 40 cows that will be milked by robots. Plans are to be open to the public by March 2019.
Part of the drive for a floating dairy farm is the global tendency of populations living close to the coastline. In America, for example, 70 percent of the nation's population lives within 100 miles of a coast somewhere.
Floating dairies can provide milk right in the harbor where often times large populations exist. Phil Lempert (https://www.supermarketguru.com/) gives us some more insight.
Want More? - Sign up below