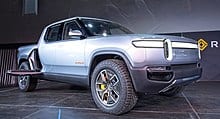 Positive Future #680 (Feature photo – Rivian Truck – By Richard Truesdell – Own work, CC BY-SA 4.0, https://commons.wikimedia.org/w/index.php?curid=74717988)
CleanTechnica journalist Steve Hanley brings us stories of the new electric pick-up manufacturer – Rivian – is planning to lower prices when vehicles become available.
Employing over 1,000 people, Rivian, like Tesla, is a force of change in the automotive landscape. Getting hundreds of millions of dollars of support from Amazon and Ford, the company is on its way. In 2019 alone, the company raised $2.8 billion dollars.
The question for most people is how low will technology development take the cost of transportation? You can read the full story here: https://cleantechnica.com/2020/01/26/rivian-says-lower-prices-are-coming-for-its-electric-truck-electric-suv-models/