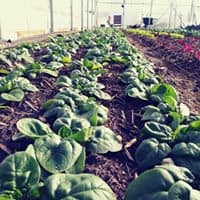 Touch the Soil News #1302 (Feature photo – Simple Abundance Farm Greenhouse – Courtesy of Simple Abundance Farm)
While everyone is worried about not enough young people taking over the industrial farms, perhaps the focus should be the incoming young people that are building local organic farms.
City Farmer News brings us information on Simple Abundance Farm and how they started on 4 X 8 foot sheet of plywood in 2014. Now they farm about an acre and have greenhouses as well.
http://cityfarmer.info/adam-and-maggie-pounds-are-the-founders-of-simple-abundance-farm-kansas/#more-321067