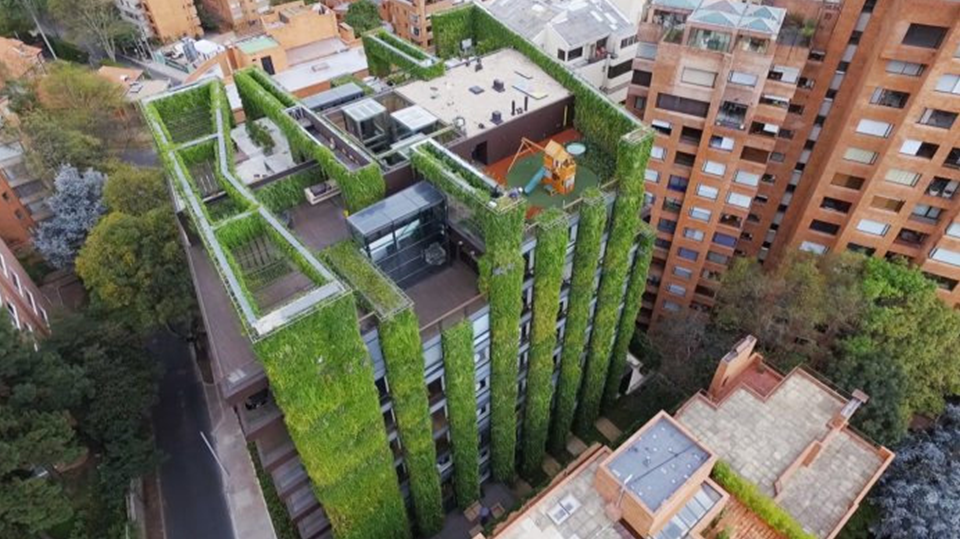 Touch the Soil News #730 (feature photo courtesy of Daniel Segura Fotografia)
The ecological imbalance in cities with concrete, air pollution and heat generation really begs the question about urban vegetation. But how much vegetation can you bring to the city?
In the city of Bogota, Columbia is a building called the Santalaia. The Santalaia is the largest vertical garden in the world – 33,500 square feet. The 11 story vertical garden is covered with vegetarian pillars that rise to the roof. This vertical garden is comprised of 115,000 plants of 10 different species.
The Santalaia was created by Spanish biologist and landscaper Ignacio Solano (only 40 years of age). The magic of the project goes beyond just bringing green into the city, The Santalaia serves as a gigantic air-purifying system capable of processing over 1,700 pounds of heavy metals, filtering over 2,000 tons of harmful gases and trapping around 900 pounds of dust each year. The project took 16 months to build around a structure designed for the garden.
It is interesting that the nation of Columbia – considered a third world nation – can in its Capitol city of Bogota – step at the forefront of the world in terms of demonstrating how to fight global warming and making cities livable.
Want More? - Sign up below