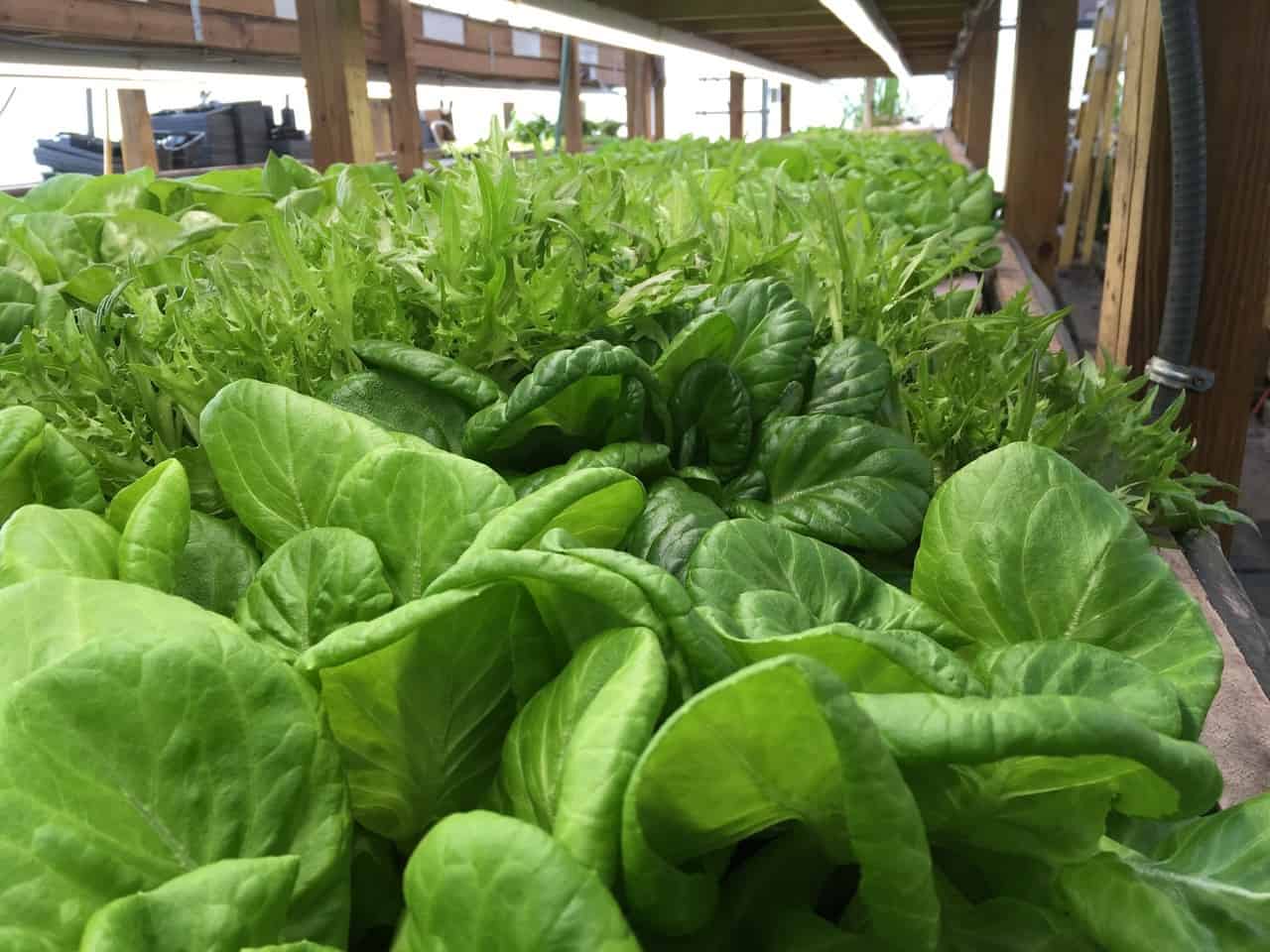 How do you feed and nurture 4,650 heads of lettuce in a vertical 4-tier hydroponic growing configuration? Water (with nutrients) is pumped to the top bed where the lettuce heads are immersed in the solution. The water then flows down through the remaining three tiers and back into a 2,000-gallon underground tank. Each tier holds a 4' X 32' growing bed give one configuration 128 square feet of growing space. The enterprise has 3 complete configurations.
Production Nightmare
Everett and Janet Marsh, of Morning Sun Farms in Frederic, Wisconsin have about 5,000 heads of lettuce growing 24 hours a day – 365 days a year. To feed and maintain the plants, they were using a molasses based nutrient solution that had been commercially prepared and fed through the watering systems.
The nightmare came as a result of spending a lot of money and receiving large build-ups of biofilm in their systems, declining plant and root development and decreasing yields. When they started getting algae blooms they realized they had to do something different and fast.
Production Salvation
After some effort and research, Everett and Janet found Kelp4Less and made contact. In Janet's own words, here is what happened.
"After spending extensive time on the phone with Brandon (at Kelp4Less) we felt like we finally found some answers and someone who could help us. He listened intently to the issues we were having, asked a lot of questions and really tried to understand our system. He didn't just try to sell me a cookie cutter, one size fits all, product.
We built a custom plan addressing the issues we were having, while positioning us to meet our production goals. Upon receiving and implementing our first order of product, we could see a difference in the first week. Plants were greener, and we began to notice better structure and more plant material in each head of lettuce.
As we go on, we are seeing our yields increase on a weekly basis. Heads are heavier and stronger and have less leaves that need to be trimmed off. The biofilm is nearly gone, our plants are healthy, root development is good, and the overall cost is less!  Anytime you can get better results for less money, that's a win-win!
Not only are we happy with the results we are seeing, I'm so impressed with the customer service at Kelp4less. I feel like we have a true partner in this.  After receiving our initial order, I got the first of several follow-up calls from Brandon, just making sure everything is working as it should. He has helped us make a few tweaks along the way to enable us to keep improving our yields. I know if I run into an issue, he is just a phone call away.  We are looking forward to working with Brandon and the Kelp4less team for many years to come. "
What Did Kelp4Less Recommend?
The products were a combination (and suggestions for use and proportions) of:
Extreme Blend and a proprietary blend consisting of KMS/Calcium mix+, Azomite/silica, Iron, Enzyme Powder
Morning Sun Farms: Morning Sun Farms/Everett and Janet Marsh/Frederic, WI 54837/morningsunfarms.net. /[email protected]
www.Kelp4Less.com