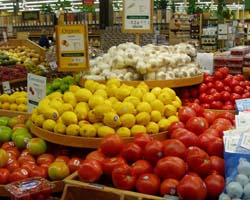 Touch the Soil News #933 (Feature photo – Fresh Produce – CCA 2.5 Generic)
Do you live in Austin, Texas (1 million people), Cincinnati, Ohio (300,000 people), Dallas, Texas (1.2 million people) or Virginia Beach, Virginia (450,000 people)?
If so, you can be part of a pilot program to receive free delivery from Whole Foods in less than two hours for an order of $35 or more. The kicker is that you have to be an Amazon Prime member which costs $99 year.
The question is, how do you negotiate heavy urban traffic and get orders to their destination in just two hours? Obviously Amazon and Whole Foods are confident they can.
For orders less than $35, the cost is $7.99. The thing is, there are a lot of Amazon Prime members – some 80 million. It will be interesting to see what comes of the two-hour delivery pilot programs.
Want More? - Sign up below