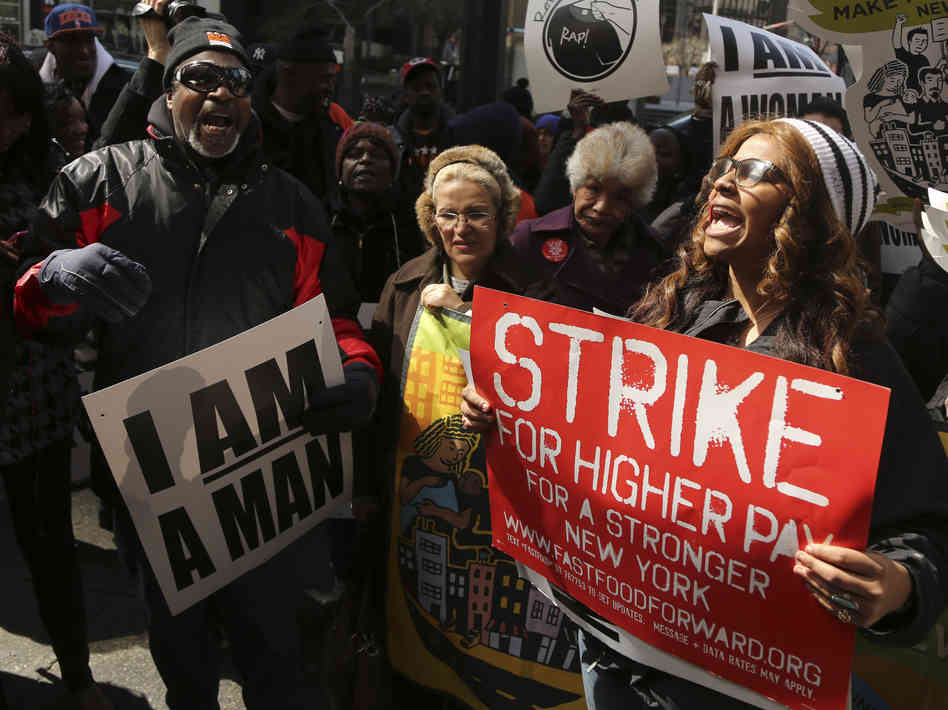 Touch the Soil News #258
On November 29, 2012 over 100 fast-food workers from McDonald's, Burger King, Wendy's, Domino's, Kentucky Fried Chicken and Pizza Hut walked off their jobs in New York in strike for better wages and working conditions. These strikes have increased in number and are snowballing to include child care, home healthcare and convenience store workers. The movement is now national and under the banner of Fight for $15 – that is $15 an hour minimum wage across the board. The whole issue of a $15 minimum wage has become a focus of the Democratic Party in the 2016 elections.
Understandably, America's food-chain workers are focused on their immediate fight for survival – as any rationale human being should be. The position of those against an increase in minimum wage is pretty predictable. An economy organized around the financial system cannot absorb the living-wage demands of working people. Their argument is that if you increase wages, companies will figure out a way to simply employ less people.
Food-chain workers are being joined many many other groups. The inability of the financial system to absorb more people into mainstream economics hints of bigger changes coming. (Photo courtesy of Gan Golan)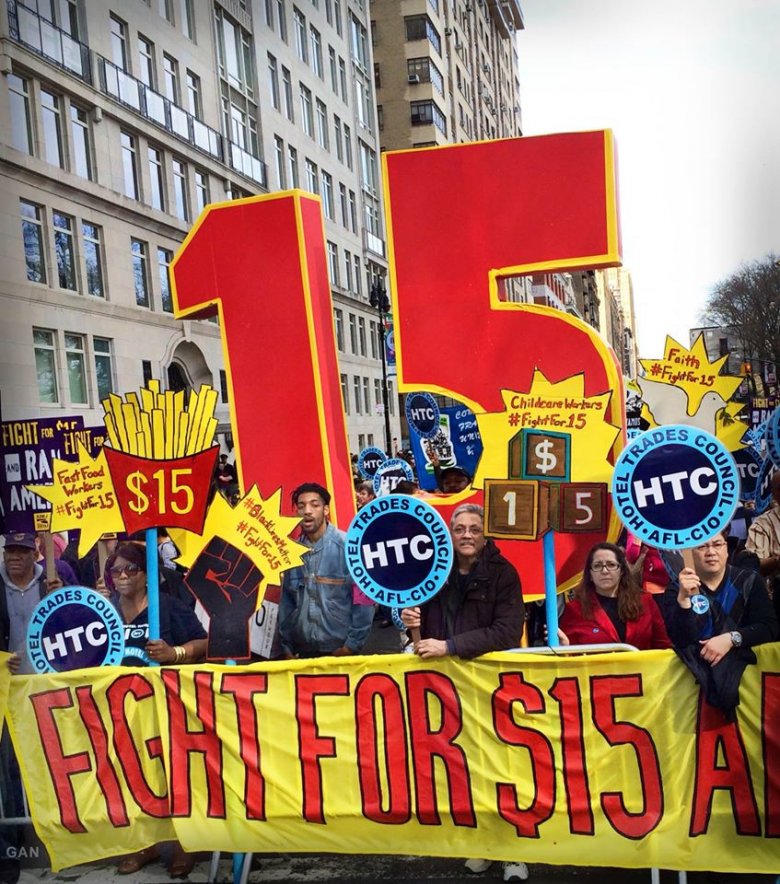 The issue goes beyond. It is about the financial system – controlled to a large degree by powerful investment groups. The issue is the absorption of all people into mainstream financial survival – which is the pre-requisite for economic survival.
Voices against increases in the minimum wage are telling the nation that the financial system cannot handle any more than the current state of affairs. Humanity must obey this limitation and accept it when the system is unable to absorb more people into mainstream economics. Since when have American's accepted limitation and subordination? There are plenty of mechanisms available through activities of the Federal Reserve Bank, the U.S. Treasury and appropriate fiscal legislation to make room for everyone. All we need is the will to include everyone.
As food-chain workers continue to find solidarity among themselves and other groups, it will force more public debate on the issue of human exclusions from mainstream economic survival. Before the world makes progress, it must admit there is a problem.
By gaining a voice to speak, people unable to translate their labor and work ethic into a living wage may ultimately precipitate an overhaul of how we approach economics. A McDonald's employee whose hours are limited to 30 hours a week (at minimum wage) would have earned $36,625 over the last three years. For perspective, the CEO of McDonald's received $30,537,161 in compensation over the last three years. If your voice cannot be heard by a company's investors and management, you have to speak out elsewhere. Exercising one's freedom of speech does have a re-invigorating effect on the nation.
Following is a short video clip featuring one of the top "labor" experts in the world – Robert Reich – former United States Secretary of Labor.
Want More? - Sign up below