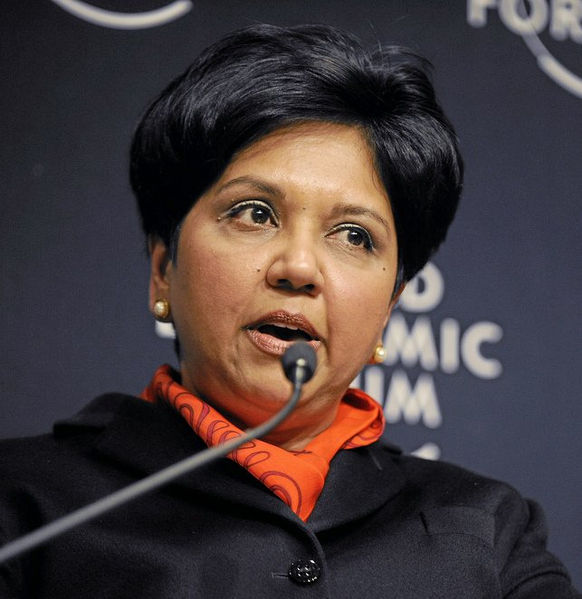 Touch the Soil News #686 (feature photo CC SA 2.0)
Our forefathers could probably not imagine how the competitive world has produced food giants that challenge the imagination. However, no matter how large they are, the thinking of big food companies is to always look to get bigger – even if it means absorbing (acquiring) whatever is around them.
There are a number of big food companies that cut a large swath such as Nestle ($91 billion in annual sales), Coca Cola ($49 billion in annual sales) and PepsiCo ($66 billion in annual sales).
In terms of the company that operates in the most countries, PepsiCo takes the 1st place – operating in over 200 countries around the world. PepsiCo made news recently when it's CEO, Indra Nooyi (see feature photo), addressed an audience at the "Beverage Forum" in Chicago: "There isn't a large company that we haven't looked at" referring to making another acquisition.
Few people realize just the extent of the number of brands (companies) that PepsiCo owns. Following is but a partial list:
Mountain Dew
Lay's Potato Chips
Gatorade
Tropicana Beverages
Doritos Tortilla Chips
Quaker Foods and Snacks
Cheetos
Ruffles Potato Chips
Aquafina Bottled Water
Tostitos Tortilla Chips
Fritos Corn Chips Walkers Potato Chips
Aunt Jemima
Cheetos
Cracker Jacks
Frito-Lay
Propel
Rice a Roni
Rold Gold
SoBe
SunChips
Plus approximately another 75 major brands.
From their 2016 Proxy Statement, PepsiCo's CEO Indra Nooyi earned total compensation in 2016 of $29,783,416. PepsiCo's top five executives earned a total of $64,126,652.
The two largest stockholders of PepsiCo are Blackrock, Inc. (institutional investor) which owns 87,771,044 shares (5.9% worth approximately $9.9 billion) and The Vanguard Group (institutional investor) which owns 106,089,173 shares (7.4% worth approximately $12 billion). Indra Nooyi, the CEO of PepsiCo owns 1,791,956 shares of PepsiCo worth approximately $203 million.
Want More? - Sign up below