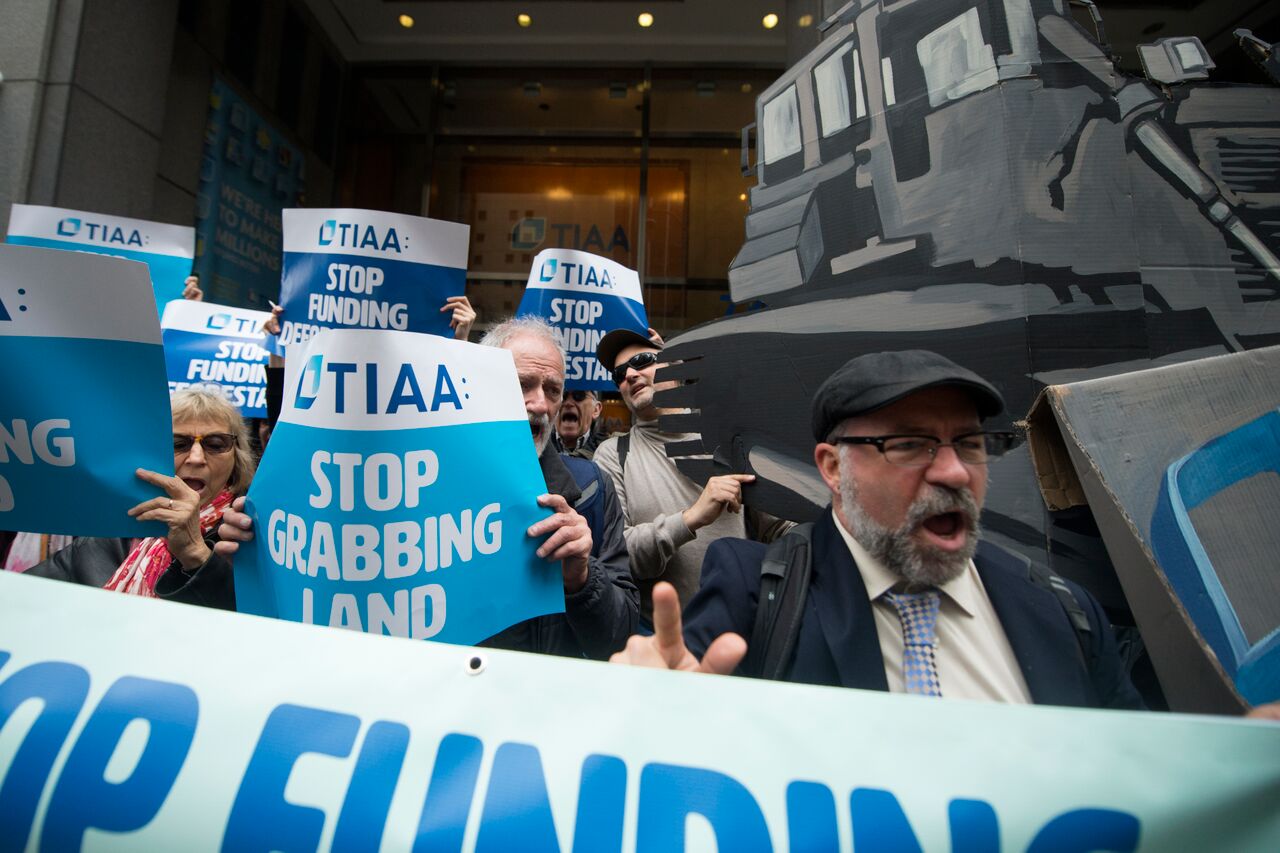 Touch the Soil News #678 (feature photo – protestors at TIAA, New York -Brandon Wu, ActionAid)
TIAA, one of the world's largest pension fund companies is trying to find an investment home for almost $900 billion dollars. Popularly known as the "teacher" pension company, TIAA is being accused of keeping its books closed to outsiders on its farmland investments.
Last week (April 20, 2017) protestors outside of TIAA's New York Offices delivered a letter to the company with over 100,000 signatures. TIAA is being accused of financing farm acquisitions in third-world nations (such as Brazil). Allegations are that the farmlands being purchased by TIAA were taken by local officials who use violence and bribery to remove indigenous peoples who may have a legitimate claim to the same land. To complicate matters, much of the deforestation taking place in rainforests for the production of palm oil is being done illegally.
The protestors in New York demand that TIAA open its books and reveal details and specifics of its $8 billion in farmland holdings that cover an estimated 1.5 million acres in the U.S. and abroad.
Friends of the Earth say TIAA links to tropical deforestation and rights abuses are undeniable. More than 14,000 signatures on the letter are from actual TIAA clients for whom TIAA provides investment and pension services.
The CEO of TIAA is none other than Roger W. Ferguson Jr., former Vice Chairman of the Federal Reserve Bank. Ferguson holds a B.A. degree in economics, a law degree and a Ph.D. in economics all from Harvard University.
On the larger scheme of things, is it possible that the U.S. is drowning in too much investment money that can't find enough socially acceptable investments? According to the Investment Company Institute (ICI) American retirement assets totaled $17.7 trillion in 2007. As of 2017, that number has risen to $25.9 trillion. This translates into retirement assets growing an average of $820 billion a year. Put into perspective, it means that every year, new investment assets equal in value to almost all of the TIAA assets, are brought on line looking to harness people, industry and farming for more money. What should be done?
Want More? - Sign up below