Touch the Soil News #515 (feature photo courtesy of Beyond Meat)
One of the largest meat companies in the World – Tyson Foods – just announced it has taken a 5 percent stake in the company Beyond Meat. Beyond Meat is at the cutting edge of creating new protein burgers using plant materials.
What makes Beyond Meat attractive is that it has gone light years beyond the traditional "veggie burger" (see video clip below).
For those unfamiliar with Tyson – it is a global mega company specializing in chicken, beef, pork and other prepared food products. Founded in 1935, the Springdale, Arkansas company sells its products in over 130 countries around the world with a work force of around 115,000 people.
Like most every other company, Tyson is owned (93 percent) by institutional investors that manage other people's money, investments and pensions. The largest stockholder owner is The Vanguard Group Inc., which manages some $3.6 trillion of other peoples' money. The Vanguard Group Inc. owns 10 percent of Tyson.
Located in Manhattan Beach, California, Beyond Meat will capitalize on its smaller ecological footprint over animal proteins and the looming resource constraints the world is facing (photo courtesy of Beyond Meat).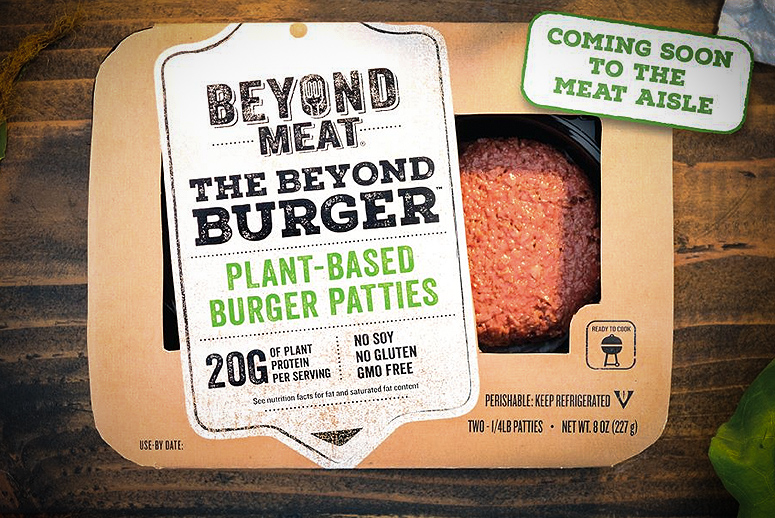 The message here is that if Beyond Meat catches on – there is unlimited money that can flow to its global distribution almost overnight. Beyond Meat already boasts that its products are available in 10,000 stores nationwide (including Whole Foods) and is looking to go international.
Following is a short video clip featuring Ethan Brown, the Beyond Meat CEO:
Want More? - Sign up below