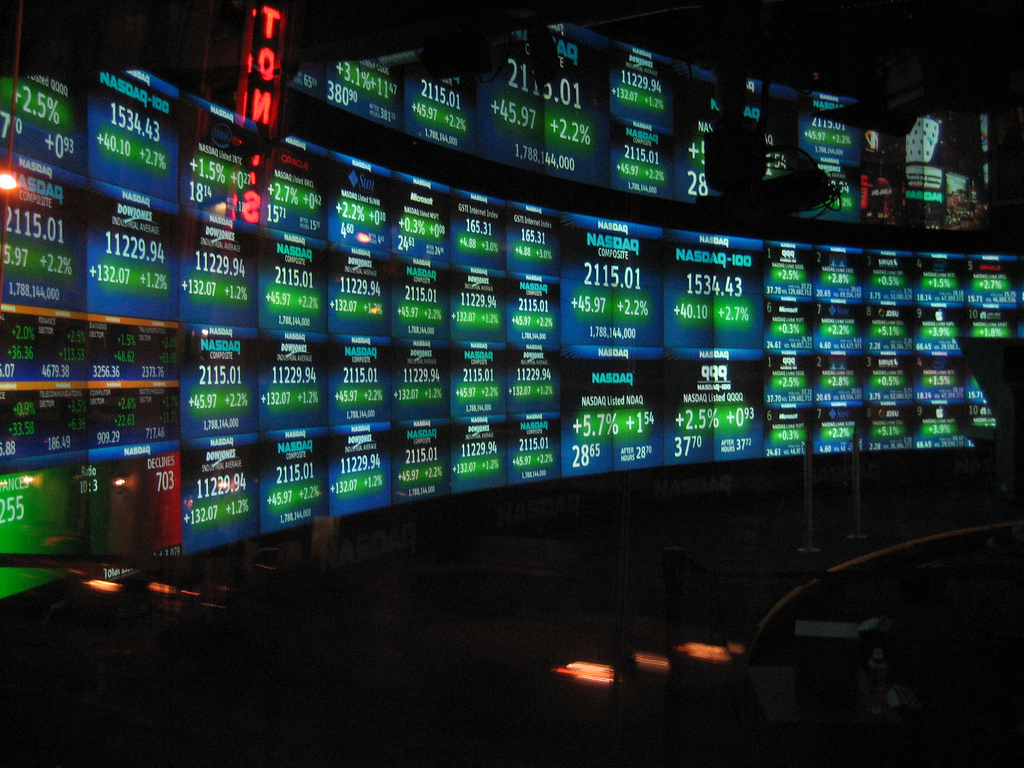 Touch the Soil News #665 (Feature Photo – NASDAQ electronic board CCA 2.0)
The NASDAQ Stock Market (National Association of Securities Dealers Automated Quotations) provides detailed information about public companies, including who the major "institutional" investors are. You can go to almost any large public corporation and find out that most of the largest stockholders are part of a small circle of some 100 "institutional" investors. Institutional investors are companies that manage other people's money, whether it is pension funds, monies from the world's richest people, or wealthy nations.
When you look at big corporations – like General Mills – you recognize that behind the scenes big capital is doing the driving. There is so much capital out there that there are few little limits on what can be purchased.
General Mills, for example, has over 100 brands in more than 100 countries on six continents. General Mills has created a new division called 301 Inc. The purpose of this division is to find places for all the dollars looking for a return. Since General Mills is in the food business, they are scouring the landscape for food businesses. In the last 18 months, 301 Inc. has taken stakes in the following emerging food companies:
Purely Elizabeth. A natural, nutrient-dense granola company that has seen rapid success.
Kate Hill. The first company to make plant-based foods such as ricotta cheese, aged nut milk delicacies, creamy almond milk yogurt and entrees and desserts out of fresh nut milk
Good Culture. Creates cottage cheese out of real organic ingredients from trusted sources.
Farmhouse Culture. A leader in new fermented foods such as sauerkraut and probiotic-rich foods.
Tio (gazpacho). Chilled soup in a bottle as a low-calorie lunch. Contains two full servings of vegetables in every bottle.
Rhythm Superfoods. A snack company focusing on nutrient-dense treats such as kale chips, beet chips, broccoli bites and roasted kale.
D's Naturals. Company makes plant-based No Cow Bars packed with protein and low in sugar, as well as nut butters. Everything is dairy-free.
Beyond Meat. Company seeks to replace animal proteins with plant proteins.
The ability of 301 Inc. to expand the potential of small companies with access to big money and big connections has benefits. However, it leads to concentrations by big business in the realms of food.
Want More? - Sign up below