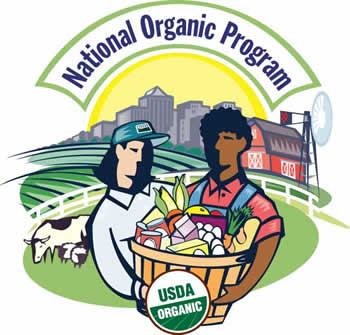 Touch the Soil News #464
The nation's largest organic wheat flour producer – Cascade Organic Flour, LLC – is doubling its organic wheat acreage to 5,000 acres. Located in Royal, Washington the firm is a family owned farm. The enterprise not only grows the wheat, but they also mill their own flour. The additional acreage will allow the company to produce 30 million pounds of whole wheat organic flour a year. http://www.cascadeorganicflour.com/
Photo: Picture logo of Cascade Organic Flour (photo courtesy of Cascade Organic Flour).

Door to Door Organics, from Lafayette, Colorado offers direct delivery of natural and organic groceries to your location. The company has relationships with local farmers across the nation in order to fulfill its quality guarantee of deliveries to customers in 50 cities across 15 states. The first Door to Door delivery took place in 1997. https://colorado.doortodoororganics.com/shop-good-food
The Organic Trade Association reports that the three years it takes for farmers to transition to organics is costly and time consuming. Often times farmers are not able to get the prices they need for all the extra effort. The result is a continuing shortage of organic foods for the market. The top organic foods include carrots, lettuce, apples and dairy. A number of organic product buyers feel the cost of the three-year transition is too high for the farmer and are beginning to offer assistance. Organic food sales in the U.S. were at $13.4 billion and only 1 percent of the nation's cropland is certified organic.
The sales of all organic products to include food, personal care etc. reached $43.3 billion in the U.S. last year. This is an increase of $11 billion in just one year.
Beekeepers in Mexico's Campeche and Yucatan regions are fighting Monsanto. The Mexican government is working with Monsanto to grant permits for raising GMO soy crops in the region. The Mexican government has disallowed the beekeepers from participating in the consultation process that will determine the GMO soybean plantings and resultant heavy chemical use. The beekeepers are now seeking public support and investigation into the legality of the permit process without their consultation.
In response to President Obama's signing a weak and confusing GMO labeling law, the Organic Consumers Association is calling on folks to boycott brands that refuse to label products. They have 500,000 signatures so far. In addition, the Center for Food Safety is launching a lawsuit to challenge the constitutionality of the recent Federal GMO labeling law as it is too weak and vague. Following is a video clip on the shortcomings of the new Federal GMO labeling law:
Want More? - Sign up below