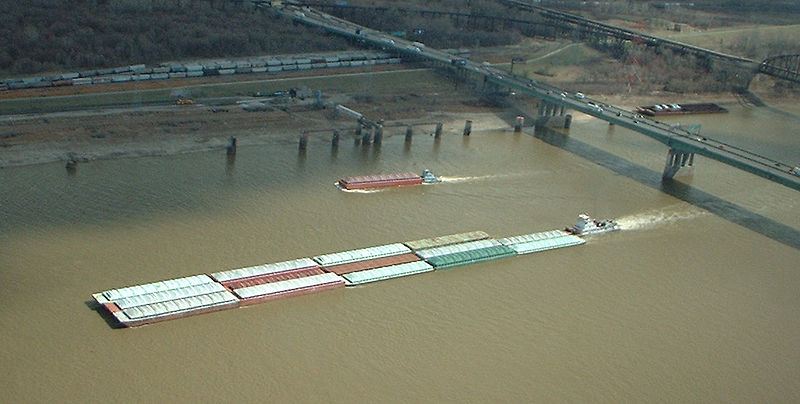 Touch the Soil News #785 (Feature photo – Mississippi River Barge – Public Domain)
Most folks have never heard of Growmark. Growmark, headquartered in Bloomington, Illinois, is the nation's second largest agricultural cooperative. It has operations in more than 40 states and is owned by over 10,000 farmers. Established in 1927, Growmark helps its farmer-owners sell their grain – over 200 million bushels a year. Chances are high that Growmark is in a community in your state.
So what is so special about Growmark? Besides being one of the world's largest farmer cooperatives, Growmark recently established strategic ties with COFCO. COFCO (China National Cereals, Oils and Foodstuffs Corporation).
COFCO is one of the largest food conglomerates in the world that engages in buying, planting, cultivating, food processing, finance, warehouse, transportation and port facilities. COFCO's new partnership with Growmark is simple – link farmers from America directly to the largest demand market – China. The U.S. exported agricultural commodities worth $21 billion to China last year. The COFCO / Growmark partnership will link COFCO (a Chinese State owned company) directly with America's largest grain production and exporting region.
Growmark and COFCO will also own and operate a large barge, truck and rail terminal in Cahokia, Illinois along the Mississippi River. Essentially it is a straight shot to China. Trucks and trains deliver grain to the port where it is loaded onto barges that go down the Mississippi and where it is then trans-loaded onto ocean freighters to China. The facility has six (6) truck receiving lanes and two rail pits for simultaneously unloading two trains at a time. Once the grain is unloaded, the facility has two 1,600 tons per hour barge loading belts serving two barge loading docks.
Want More? - Sign up below