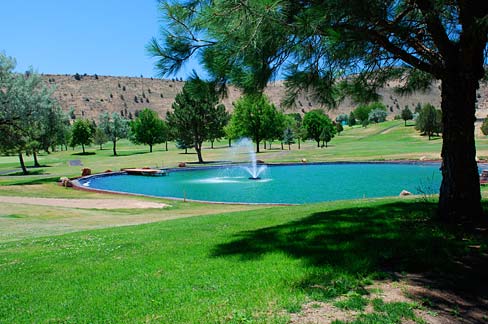 Touch the Soil News #260
As the world's available farmland and water resources shrink relative to population gains, have you ever looked at golf courses as food safety nets? At first glimpse it may sound absurd. However, the sport of golfing is in serious decline. Hundreds of thousands of golfers are leaving the sport each year. Bloomberg Business news reported that in 2013, 260,000 women took up the sport while 650,000 men quit – a net reduction of 390,000 players.
According to the "Economist" there are three reasons for the decline in golfing: 1) Golf no longer fits with many modern lifestyles and takes up too much time. 2) America's troubled economy makes it harder for middle and lower income golfers to stay in the game. 3) Golf is becoming harder to play. Since the 1990s, golf-course designers have taken to building longer and tougher courses.
Kah Nee Ta golf course in Oregon. On average around 150 golf courses are closing their doors each year in America - a trend since 2006. (photo courtesy of Gary Halvorson, Oregon State Archives)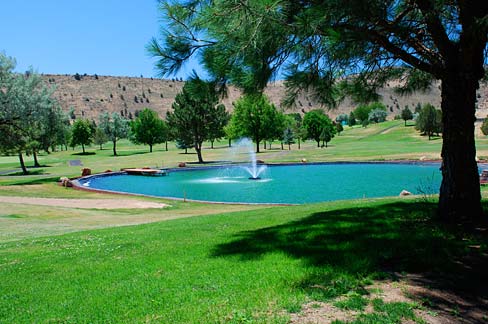 Since 2006, hundreds of golf courses have been closing every year. On average, around 8 percent of the nation's golf courses have been closed over the past 8 years. This is leaving some pretty healthy chunks of desirable land (often with water and electricity) looking for other uses.
According to Wikipedia, the average golf course is about 74 acres in size. A 74 acre parcel of land with water could accommodate quite a number of urban farmers and market gardeners.
While it has not yet established itself as a trend, there are examples of golf courses being converted to agricultural enterprises. According to the magazine Modern Farmer, James and Stephanie Lemon of West Virginia, converted their failing 9-hole golf course into a working organic produce and egg farm in 2010. Dennis DeYoung is turning a Michigan golf course into a hog farm. John Taylor is converting a golf course outside of Seattle into a dairy farm.
On the international front, in protest over land reform, farmers in the Philippines stormed a golf course and planted rice. Following is a video on that story. While it is not in English, one can grasp the gravity of the importance of food and land when it spills onto a golf course.