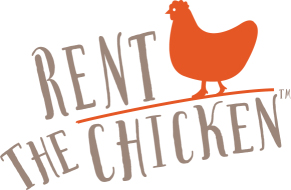 Touch the Soil News #386
Rent the Chicken is a newer business model for urban food. Started in 2013 by Jenn Tompkins from Pennsylvania, the model has now been franchised in 36 locations in 23 U.S. States and five (5) Canadian Provinces.
Kate Fraser, a new Rent the Chicken franchise holder in Vancouver, Canada rents two hens (with feed and chicken coops) for $425 for six months. Four (4) hens cost $600. At the end of the term, renters can buyout the chickens and coops at $250 for the two-hen option or $350 for the four-hen option.
Renting the chickens gets homeowners up to speed quickly. (Logo courtesy of Rent the Chicken)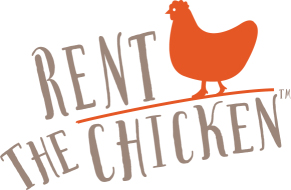 According to the Vancouver Sun (5/12/2016) Fraser already has a waiting list that she sold out of her 2016 rentals back in February.
Sounds like a going concern. For more information visit the website at: http://www.rentthechicken.com/
Following is a short news clip on how Rent the Chicken works.
Want More? - Sign up below