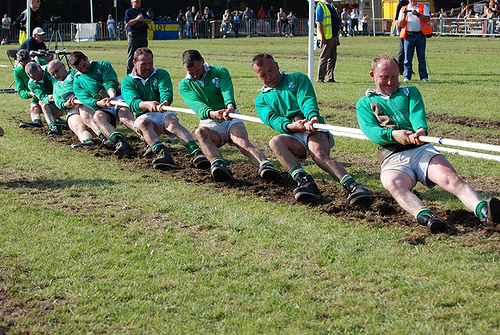 Positive Future #35 (Feature photo – Rope Towing Competition – CCA SA 3.0 Unported)
Competition generally is focused on competition for dollars. To the extent that this priority overlooks innovation has been a contention for years among progressive thinkers. Competition then has been criticized for embracing polluting technologies in favor of earnings.
However, as public sentiments are precipitating political and global calls for change, some of the establishment is seeing that they need to change technology in order to compete successfully for dollars.
It made news when car-maker Tesla opened the doors for orders of its new model 3 cars with a range of 220 miles to the charge. Estimates are there were over 400,000 pre-orders.
News is leaking that next year (2019) Nissan will be unveiling a new fully electric Leaf with 225 miles of range. This then exceeds the Tesla model 3 by five miles in terms of range.
You can read a more detailed story here: https://cleantechnica.com/2018/01/02/220-mile-tesla-model-3-vs-225-mile-nissan-leaf-will-win/?utm_source=feedburner&utm_medium=feed&utm_campaign=Feed%3A+IM-cleantechnica+%28CleanTechnica%29
In the big picture, investors are piling up billions of dollars behind Nissan, as they are Tesla, General Motors (Bolt electric) and every other major car manufacturer.
In their chasing after dollars, not all dollars will win. However, it looks like the environment and people may win as newer technologies are more sensitive to being compatible with the ecology which sustains all.