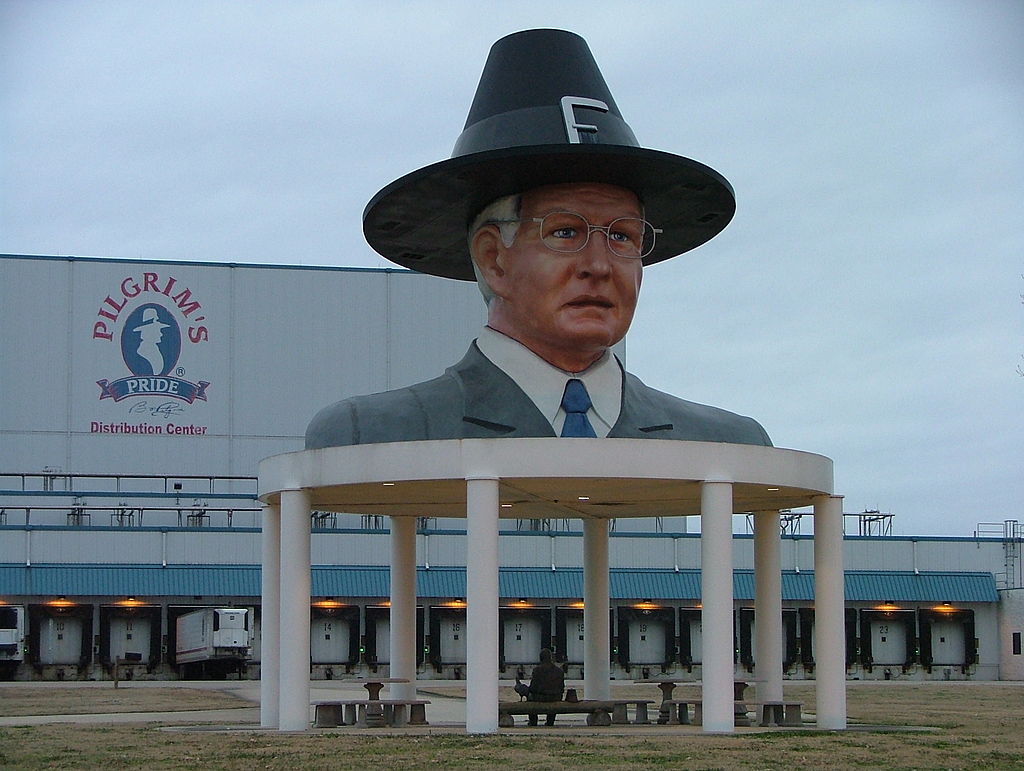 Touch the Soil News #708 (feature photo – Bo Pilgrim statue in front of a facility principally owned by JBS SA – CC SA 3.0)
JBS SA, headquartered in Sao Paulo, Brazil, has the title of being the world's largest meat processing company by sales. They specialize in beef, chicken and pork. The company has over 150 plants around the world and employs approximately 200,000 people. The company was founded in 1953 and is presently managed and controlled by Joesley Batista and Wesley Batista – both billionaire stockholders.
In the United States, most folks have purchased JBS SA meat under the brands of Pilgrim's Pride (the largest chicken producer in the U.S.) and Plumrose USA (deli ham meat). Other U.S. companies acquired by JBS SA include Swift and Company and the beef operations of Smithfield Foods.
There have been rumors for years that JBS SA was engaged in corrupt activities, though the company always denied any wrong doing. Over the past six months, however, Brazilian Federal Prosecutors have come forward with concrete evidence of material wrongdoing by JBS SA to include:
Bribing meat inspection officials to turn the other way when unsafe and compromised meat was packaged and sold globally.
Bribing high government and banking officials for billion dollar loans under improper terms and leniency.
The surfacing of tapes in which the Batista brothers reveal numerous illegal and bribery activities on their part. The tapes implicate Brazilian President Michael Temer for receiving millions of dollars in bribes from JBS SA.
Other scandals have surfaced relative to inappropriate currency trades and stock trades undertaken by the Batista brothers.
So here is how the meat processing giant is starting to unwind:
The company has been slapped with a $3.4 billion dollar fine that it must figure out how to pay.
The company has $5.46 billion in short term debt which has been downgraded by a global analyst – creating more problems as the company tries to borrow money.
JBS SA stock is falling precipitously.
JBS SA, in order to pay its fines and shore up its financials, has hired a third party to start exploring the sale of some of the company's assets to raise cash.
Want More? - Sign up below