Touch the Soil News #587
Twenty years ago, urban sourced food was not a threat to Wall Street, organized capital or industrial food models. For all practical purposes, food was the domain of big farms and the U.S. Department of Agriculture. The past few years have seen tremendous consolidation among grocery chains, farm chemical companies, food manufacturers and ever larger confinement animal feeding operations. Underneath, Wall Street news is packed with industry consolidations and stockholder triumphs over labor when it comes to access to company profits.
So while it looks like Wall Street is thriving, there are definite counter-currents that are attracting the passions of people. Worthy of note are the emerging ties between local food advocates with city and county officials. In 2013, a group of like-minded organizations and non-profits came to together to form the Sacramento Urban Ag Coalition. Their goal was focused – change ordinances to help urban agriculture become legal and remove cumbersome restrictions relative to raising food (see video below).
Part of what is driving change in the approach to food is the countless food deserts (where there is no access to fresh fruits and vegetables) that define large parts of modern cities. Locals and policy makers are struggling on what to do with what Wall Street has left behind. Solving the food desert problem is churning up passion across America.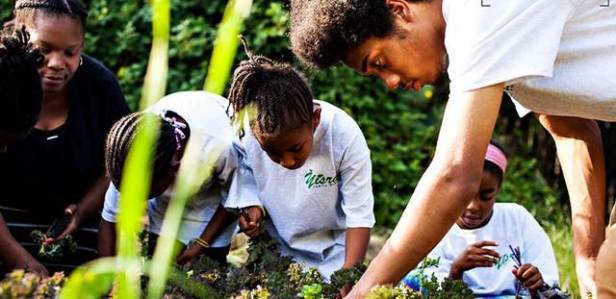 As we speak, that vision is coming close to fruition. The Sacramento County (California) Board of Supervisors is seriously considering a sweeping urban agriculture ordinance. Following is what is on the table:
Market gardens: Currently undefined under county code, market gardens – where produce is grown specifically for donation or sale – are allowed as the primary use for vacant parcels.
Farm stands: Farmers need a temporary use permit to erect a temporary stand of under 120 square feet or a conditional use permit for a larger stand. Stands could sell fresh produce, eggs, honey and products authorized by the Cottage Food Act.
Keeping of chickens and ducks: Allowed on any parcel in all zones. One chicken or duck allowed for every 1,000 square feet when a coop is provided. Chickens and ducks have to be kept 3 feet from property lines and 20 feet from neighboring residences.
Beekeeping: Allowed on parcels larger than 5,000 square feet in most zones. Beekeepers are allowed between two and six hives, depending on lot size. The hives must be kept in a secure location and placed so the bees fly into the property at least 6 feet above the ground.
Animals associated with educational programs: With a minor use permit, programs such as 4-H and Future Farmers of America allowed to temporarily keep large livestock on properties smaller than 20,000 square feet.
Sacramento County is home to some 1.5 million people. Liberalizing the ability of folks to grow their own or have locals grow more food is gaining traction. The Sacramento Urban Ag Coalition has been inspired by their success in getting the city of Sacramento to already adopt a similar ordinance. Now they are hopeful to expand that work throughout the whole county. San Francisco also has adopted a supportive urban agriculture ordinance.
What makes the work of the Sacramento Urban Ag Coalition important is that it has created a blueprint for other cities and counties to follow. Following is a video clip of the Sacramento Urban Ag Coalition. How many other communities in America might be ripe for a similar counter-current when it comes to food?
Want More? - Sign up below