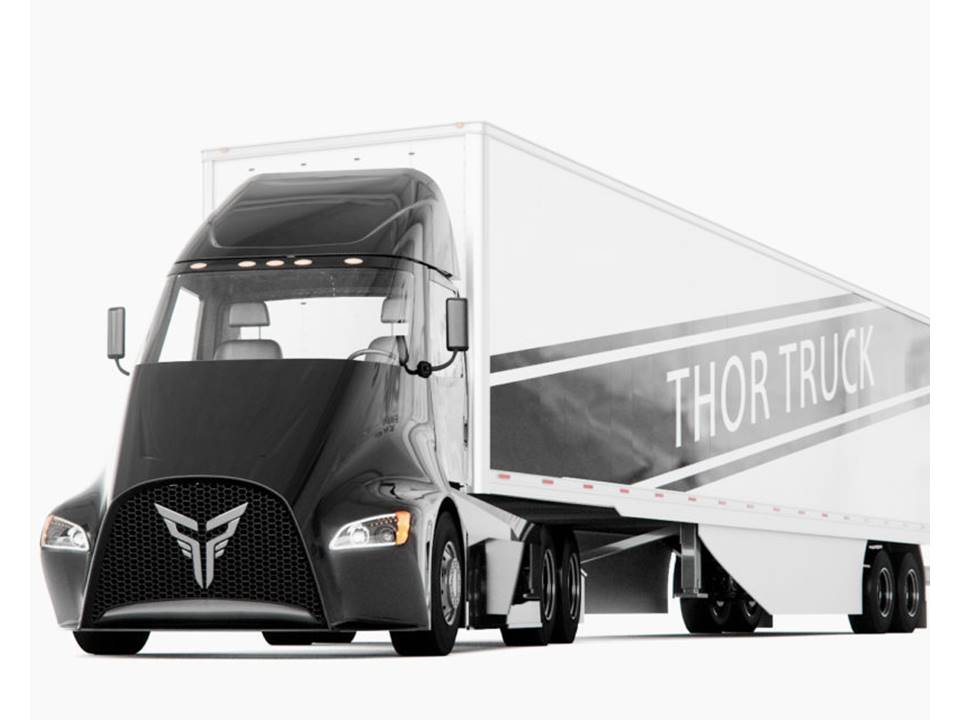 Positive Future #25 (Feature photo – courtesy of Thor Trucks)
While recent news of the Tesla semi has dominated the news, there is an even larger story than the Tesla semi. It is the story of how many other manufacturers are working on and producing electrified semis and heavy duty trucks. The following list gives us a perspective of the magnitude of change.
Information sourced from https://cleantechnica.com/2017/12/16/electric-semi-trucks-heavy-duty-trucks-available-models-planned-models/?utm_source=feedburner&utm_medium=feed&utm_campaign=Feed%3A+IM-cleantechnica+%28CleanTechnica%29
Following is a list of the game-changers:
Efficient Drivetrains Inc. currently offers a number of plug-in hybrid and all-election retrofits for various medium- and heavy-duty truck applications worldwide.
Orange EV – all electric terminal trucks.
Motive Power Systems – all electric drive trains for trucks.
BYD – a variety of heavy duty electric plug-in trucks.
Wrightspeed – offers a number of plug-in hybrid powertrains for use in heavy-duty, stop-start style applications. Founded by a former Tesla founder.
E-Force One – A Swiss company that has created an 18 ton all-electric truck.
Renault and Groupe Delaunchy – Created an all-electric 13 ton produce and refrigerated deliver truck.
Cummins – Reportedly working on an all-electric class 7 heavy duty truck.
Daimler (Mercedes Benz) – Working prototype of an all-electric truck with 220 miles of range and a cargo capacity of 11 tons.
Nikola Motor Company – Working on an all-electric class 8 semi-truck.
Volkswagen – Testing a final prototype electric semi-trucks through nine different trucking companies in Austria.
Thor Trucks ET 1 – Working on an all-electric semi-truck. Headquartered in California, the company boasts it will beat Tesla to the electric semi-truck market.
Want More? - Sign up below