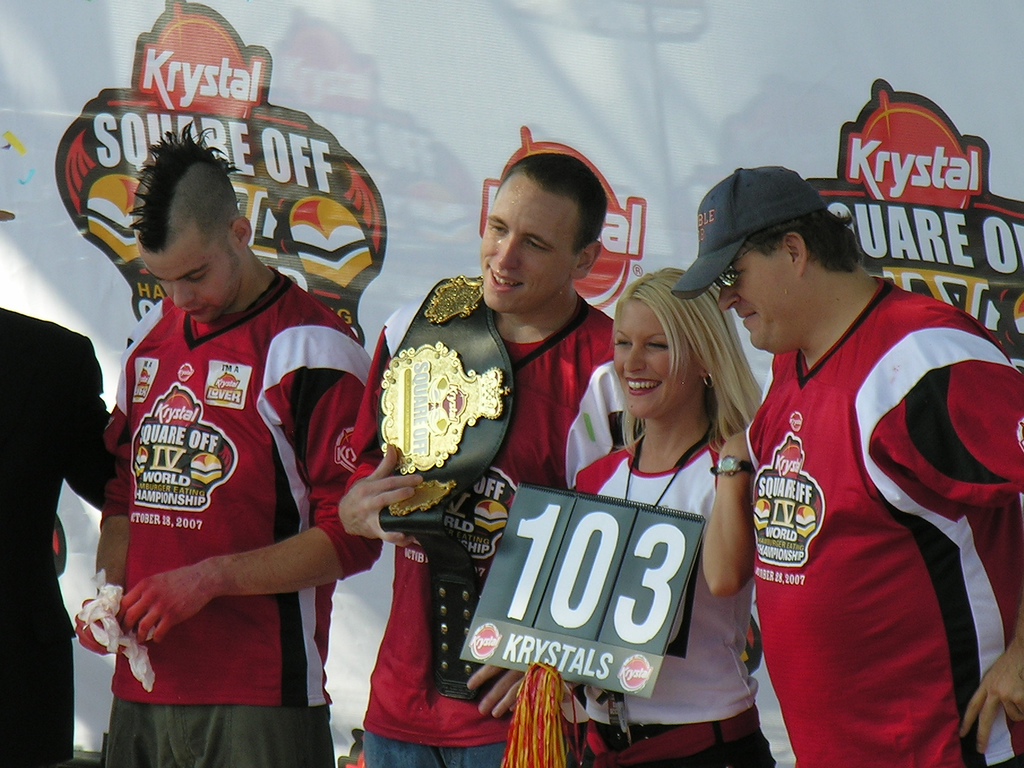 Touch the Soil News #780 (Feature photo – Joey Chestnut (center) wins a Krystal Hamburger Square Off by eating 103 Krystal burgers in 8 minutes – CC SA 2.0)
Krystal is an American brand hamburger restaurant that – like so many others – is trying to differentiate itself. Founded in 1932 at the height of the Great Depression of the 30s, the company now has about 360 locations in the U.S. with over 6,500 employees. The company is owned by the Argonne Capital Group that also has sizeable investments in IHOP, Applebee's, On the Border and Sonny's BBQ.
Fast food is the antithesis of eating out of the home garden. Yet, in a rather bold move to stay ahead of its competition, Krystal announced that 75 of the company's restaurants in Alabama, Georgia, Florida, Tennessee, South Carolina and Mississippi were moving to being open 24/7. The company will also have some 50 restaurants in the same states that are open 24 hours on the weekends.
The company describes itself to future franchise owners as an iconic 80-year old distinctive Southern dining experience with a cult-like following by folks that crave their food. All of this may be true and perhaps the time is now ripe to satisfy the cravings of the cult for 24/7. How many other brands try to do the same thing – develop a cult and cultivate cravings?
Want More? - Sign up below