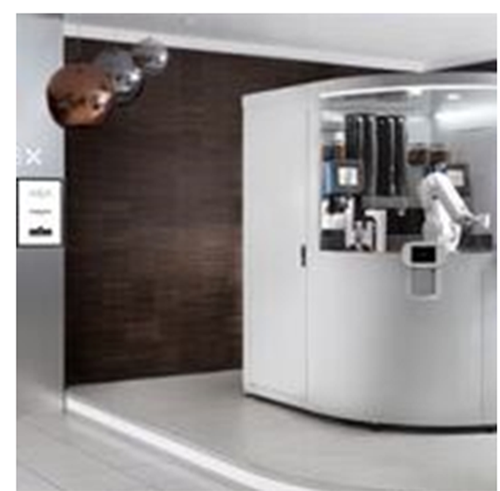 Touch the Soil News #652 (Feature Photo, courtesy of Café X)
While it may seem not such a big deal, robotics are leading the charge of "impersonal" in the food chain.
Café X, an evolving approach to robotic baristas, now has a fully functioning coffee bar in San Francisco. No personal service however. Orders are taken via an app and a large automated barista with the help of a robotic arm serve the coffee.
Henry Hu, Founder and CEO of Café X is heading rapidly down the robotic path to commerce. Claims are that you can get coffee in 10 seconds rather than 10 minutes. At the heart of the operations is a WMF fully automatic coffee machine along with a Mitsubishi 6 axis industrial robot. The set-up dispenses 8oz. cups of coffee for between $2 and $3.
Café X has partnered with coffee brands AKA Coffee, Verve Roasters and Peet's Coffee. Café X has attracted $5 million in venture capital to get to its first opening in San Francisco.
While concepts of robotics and automation are coming into reality at an increasing pace, one must consider the reasons why. First is to compete for the roughly $1.5 trillion in food dollars spend annually in the U.S. Secondly, it's about return on equity (investments). Each year the economy must absorb hundreds of billions of new investment dollars with not enough places to go. The value of retirement investments have been growing by nearly $1 trillion a year over the past few years. It's all about the money and this focus may serve some of what is good for people and it may overlap into areas not necessarily people friendly.
Café X is focused on rapid service as a way to make our fast-paced world easier. It is perhaps a foregone conclusion that humanity will race down this path at high speed.
Want More? - Sign up below