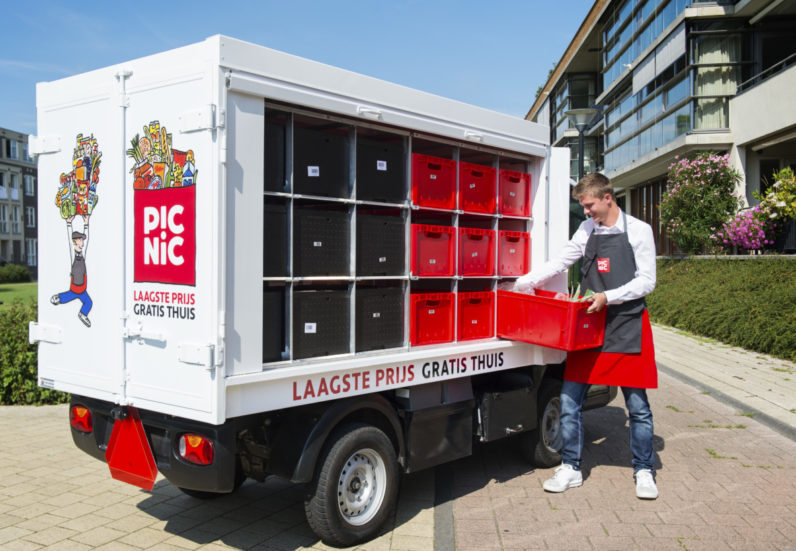 Touch the Soil News #660 (Feature Photo courtesy of PicNic)
Across the ocean in Europe – The Netherlands specifically – a new online supermarket started up 18 months ago. Called PicNic, they started up with 150 customers and now serve over 30,000 households.
The process strives to get groceries to people at the least cost. Here is how it works:
You download the PicNic app.
You order online what you want.
Within 10 minutes of ordering, you get a confirmation of when the groceries will be delivered to your home.
You can follow in real time the delivery vehicle on its way to your house.
The service is like the old milkman service in which the milkman is in your neighborhood around the same time.
PicNic buys brand-name foods directly from manufacturers and original distributors and stocks them in their own warehouses. This means that they get food at the same cost as grocery stores. Without having to have a storefront, they can deliver foods to your home for the same or less than what you would buy at the grocery store.
Drivers go to the warehouse and build the orders that go on their truck and then head out. Everything is planned as to the driver's route, his stops and timing. Accordingly, the company can tell you after every order when it will arrive at your house within a 10 minute window.
PicNic recently received $109 million in funding to build five new warehouses and 70 distribution hubs. Plans are to hire 2,000 new employees just this year, and put into service over 2,000 electric delivery vans over the next few years.
Today, PicNic is in just a few cities in The Netherlands, but plans are to be in all the countries cities within 3 to 5 years. PicNic hopes that in time people will order 30 to 40 percent of their food online – the same as they order electronics and other goods. Ultimately they plan to employ over 10,000 people.
Want More? - Sign up below