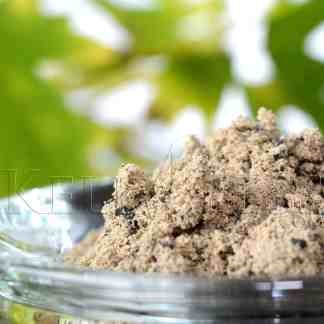 Touch the Soil News / Product Review #101 (Feature Photo – Extreme Blend  – (Kelp4Less)
Over a decade ago, Kelp4Less teamed up with a giant pumpkin grower to develop a blend that would take growing over the top. The result was a blend of Amino Acids, Fulvic Acids, Humic Acids and Soluble Kelp with the brand name Extreme Blend.  So what happens when you apply Extreme Blend to your plants?  To answer that question we defer to three (of many) 5 star reviews we've received:
"I've tried numerous products, but this the one that gives great, immediate and noticeable results."
"I hybridize and sell daylilies. After using Extreme Blend, I watched each and every daylily. … literally tansform. … regardless of where planted.
"I spray everything once a week and everything seems like its growing in Turbo."
Extreme Blend is all the organic acids mixed into one product. It's a one stop shop to get the additives you would put on your plants for a stellar outcome.
Extreme Blend comes in a dry powder, is water soluble, and can be applied as a foliar spray or root drench.  Extreme Blend is a candidate for organic certification. However, to ensure the most competitive price, Kelp4Less has chosen not to register this product.
In today's economy, buying a dry powder (water soluble) blend, not paying for water, and not having to source all the ingredients individually, simply makes sense.  At rates of only 1/8 to 1/4 teaspoon per gallon, even a 1 lb. bag can go a long way.
Kelp4Less has spent decades finding the best raw product sources available in America. This includes the ingredients in the Extreme Blend product.  Anything less, has your plants responding less and not getting the return on your dollar.
Link to the Extreme Blend Product Page: https://www.kelp4less.com/shop/powder-extreme-blend/
Link to Product Reviews: https://www.kelp4less.com/shop/powder-extreme-blend/#reviews