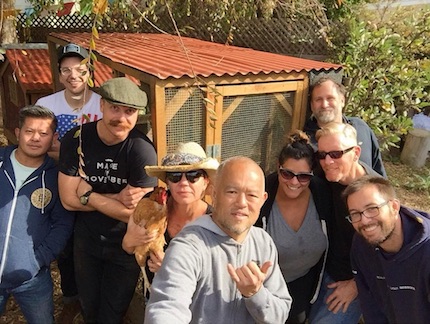 Touch the Soil News #643 (feature photo courtesy of Farm Lot 59)
In 1881, in what is now known as Long Beach, California, the city's early founders identified a 4,000 acre area to create a new town. Of this land, 300 acres was carved out for the city portion and the other 3,700 acres were divided into 20 acre small farms numbered from 1 through 185. Farm Lot #59 is the last remaining plot that has not been urbanized.
Owned by the city of Long Beach, Farm Lot 59 has been leased to Long Beach Local – a nonprofit that now oversees the operations of Farm Lot 59 as a community farm. Farm Lot 59 operates as an organic and biodynamic farm.
The purpose of the farm is to have a place where local residents can volunteer, experience food first hand and learning about growing vegetables, fruits and flowers. In addition to public-interest classes, Farm Lot 59 teaches others how to become urban market farmers. Because this small farm can in no way feed the 500,000 residents of Long Beach, the goal is to teach the next level of citizen farmers how to do it.
Like many other stories we have covered, the message from Farm Lot 59 is that food and raising food has become the globally (and domestically) accepted way to change the world. Everything from social justice, ecological stewardship and sustainable (non-toxic) food production are being re-invented, re-introduced and expanded. Following is the link to their Website: http://www.farmlot59.org/
Want More? - Sign up below