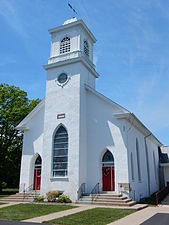 Touch the Soil News #375
The food landscape in America is migrating beyond mega-farms and USDA policy. It has become an arena not only of social activism, but religious activism as well. It happens frequently that church congregations are seeing their physical assets and members in new and active ways. Grounds owned by churches are converted to food gardens, tended by congregation members with the produce donated to food banks and soup kitchens.
Recently the Montgomery News (www.montgomerynews.com) reported on two Lutheran Church congregations in Sellersville, Pennsylvania joining forces to start raising food for the needy. The Jerusalem Lutheran Church had the land and the St. Michael's Lutheran Church had the people.
So in the end, the universal principal of helping others brought together two congregations for the common goal of ending hunger in their small community of some 5,000 people. Church members will work together to create the food garden and then plant, tend, harvest and donate the produce.
One of the organizations that will receive food from the new garden is a non-profit called Pennridge Fish, which provides food and clothing for the needy. Pennridge Fish gets support from a coalition of some 28 churches from a broad spectrum of different faiths.
The Montgomery News quoted Lutheran Church member Paula Wiley: "You'll have to excuse the enthusiasm. I've been talking about this for two years and its finally happening."
Following is a short video clip of the Lutheran members working to create the food garden:
Want More? - Sign up below