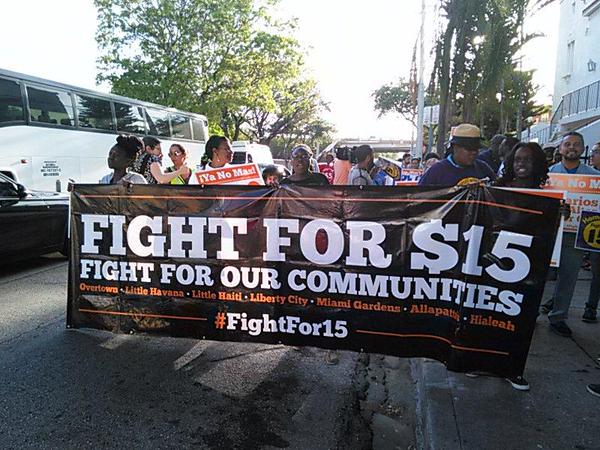 If you go back to March 9, 2015 in the news archives, you'll see a story we did on a movement called the Food Chain Avengers. The group published a comic book on food chain workers who became heroes in getting basic wage increases.
(Photo courtesy of Fight for $15)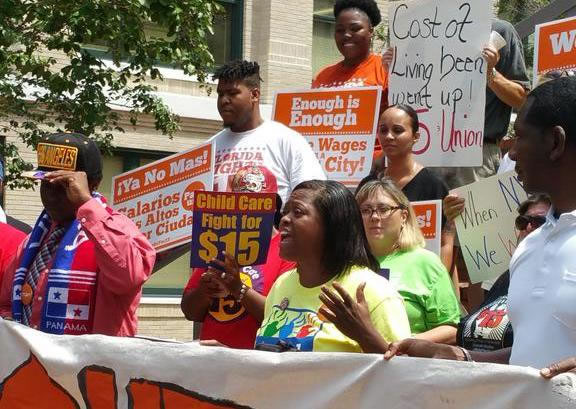 I remember we talked to a woman about the $15 wage who had been a waitress for over 20 years. She said it would never happen and the owner of the restaurant she worked for would never consider it. We'll, we're not sure it is going to happen either, but recently the voices for $15 have become louder and with greater solidarity.
U.S. News reported on November 10th that Fight for $15 organizers were planning protests in 270 cities, which have already begun. What makes this movement different is that voices of the supporters and stakeholders for higher wages are expanding geometrically. It's not just food workers that are showing up, but home-care, child-care and other lower-wage workers coming out of the woodwork. Some unofficial estimates are that people working under $15 affects 50 percent of the total workforce.
At the heart of the debate is that proponents are mostly workers who can't make ends meet. Voices against the $15 wage are mostly well-paid politicians, business executives and folks who worry less about where the next dollar is coming from. They argue that higher wages means fewer people working.
Fight for $15 is gaining momentum not just from food-chain workers, but health-care workers as this photo illustrates (photo courtesy of Fight for $15)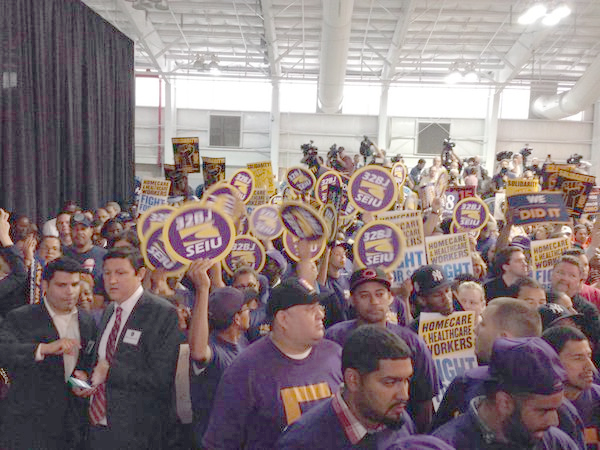 Unfortunately, there is a deeper problem – global organization around capital is failing to meet everyone's needs. Ignoring large numbers of people unable to make ends meet will simply create a larger powder keg whose resolution gets passed to future generations. Arguing over why a system that cannot include large numbers of people should, at some point, open debate about the system – not just employers and employees.
Interesting about this movement is that there are almost 50 million food insecure Americans and it is in the food-chain that this movement has sprouted. Fight for $15 reports that they had rallies in 500 cities across the country on November 10th.
The $15 movement began largely over McDonalds Corporation.  From McDonald's 2014 annual report, CEO Steve Easterbrook explained: "By our standards, McDonald's 2014 financial performance was disappointing. While we grew system wide sales by 1 percent, global comparable sales decreased by 1 percent and operating income declined by 8 percent.
What Mr. Easterbrook failed to explain was that in 2014, the company paid out $6.4 billion to enrich stockholders through dividends and stock repurchases. This was a cash compensation increase of 31 percent to stockholders over 2013. Draining the company of its cash for benefit of stockholders is acceptable. Keeping Americans (and America) afloat is of lesser importance. Is the system we call capitalism too confining?
If you're curious, following is the link to the Fight for $15 Website: http://fightfor15.org/
Following is a video clip of the protests in Chicago, How do you feel about it?
Want More? - Sign up below