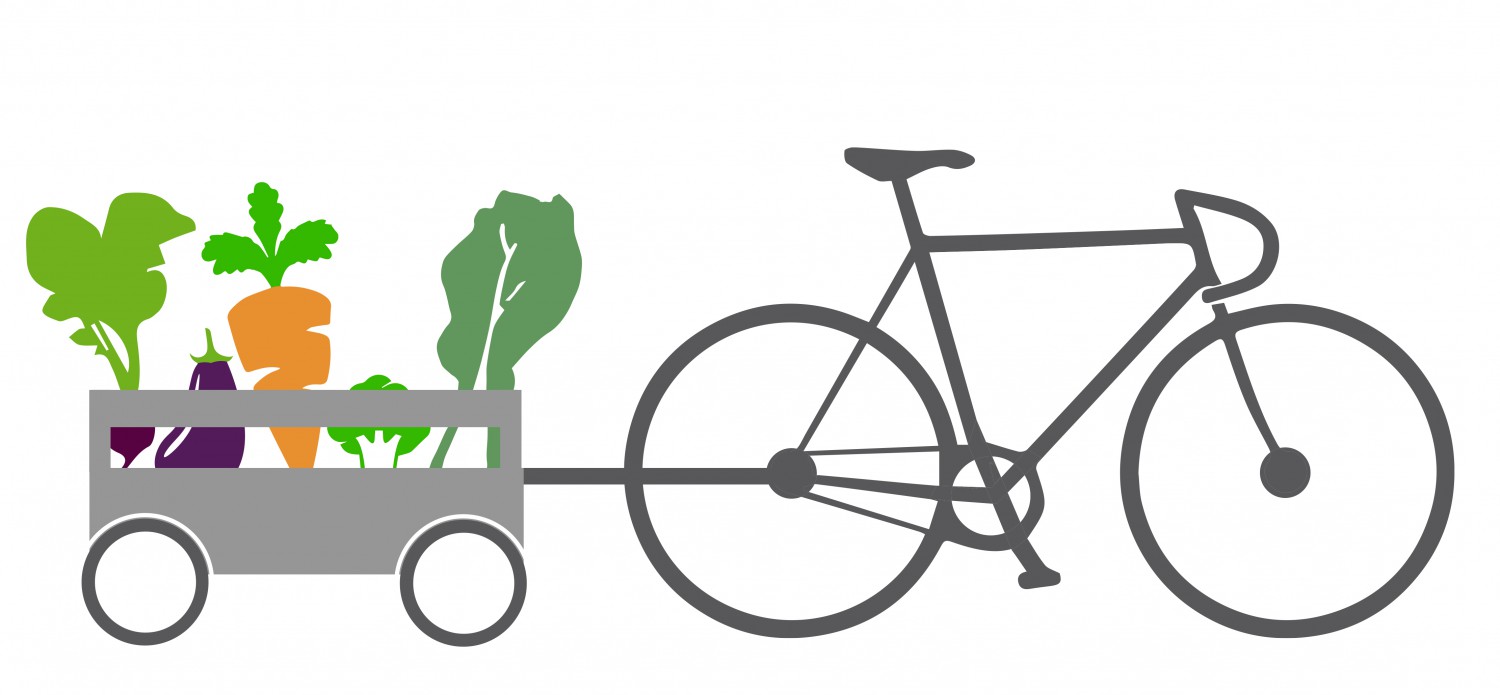 Touch the Soil News #174
As luck would have it, we were able to connect with Heather Grove, program director of Fleet Farming – thanks to introductions facilitated by Roxanne Christiansen of SPIN Farming.
Normally, we try to keep our news pieces quite short. However, something comes out of this story on Fleet Farming that has "geometric" potential to evolve humanity in many arenas, not just food. Thus we have a little longer piece. The theme of food organized around not-for-profit endeavors is one we have covered before. This does not mean efforts at food production should go uncompensated. It means organizing something solely around financial considerations is not broad or trustworthy enough to entrust something so important as the food chain – it begs a not-for-profit (community) involvement.
Heather Grove went the extra mile to provide us insights about the work of Fleet Farming. Over the past year, Grove had some "aha" moments which we will share after we first explain what Fleet Farming does. Somewhat unexpectedly, while working on this news piece, we at Touch the Soil News also experienced an "aha" moment – we'll explain at the end.
A group of volunteers on a "swarm" ride after a big harvest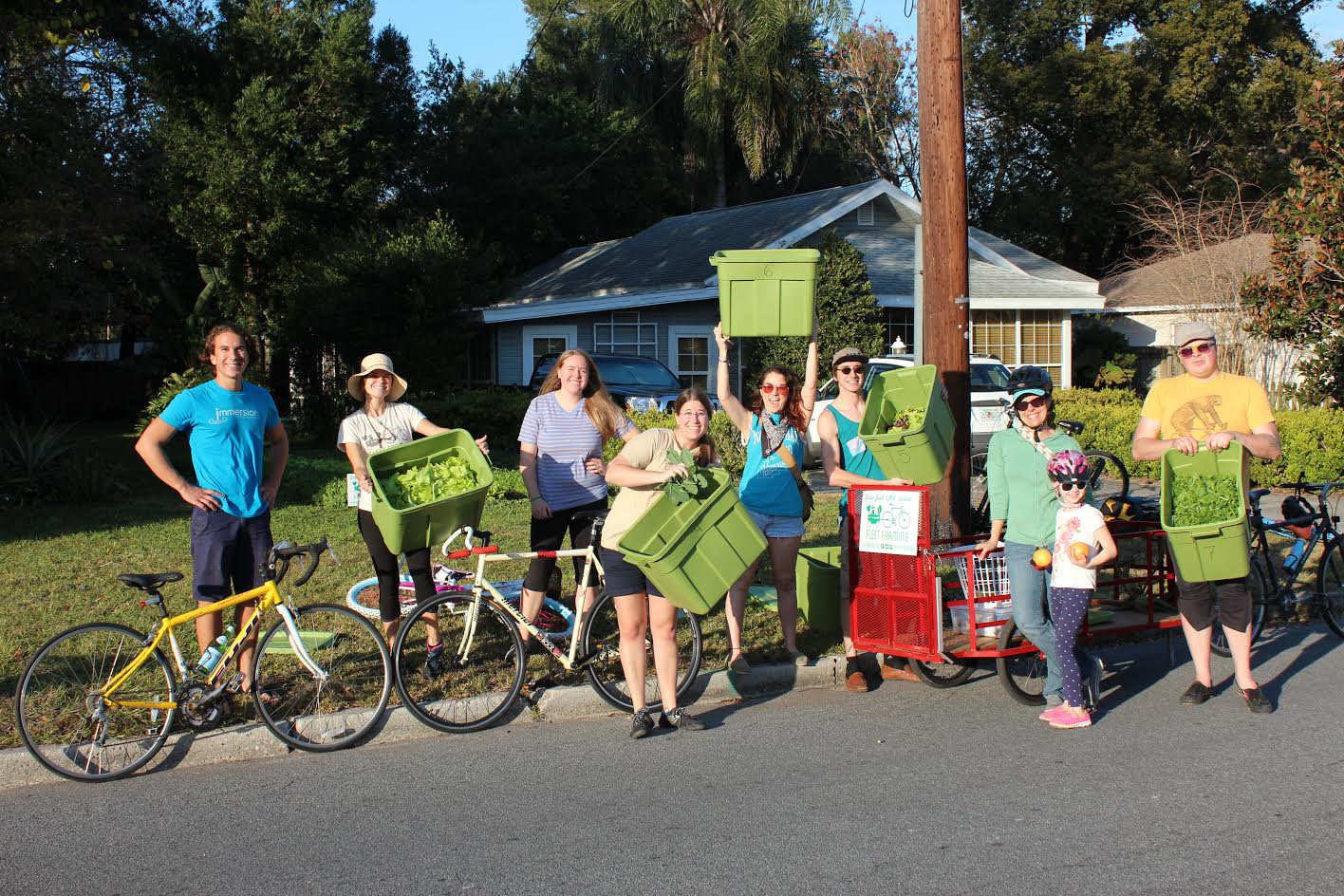 Fleet Farming (Orlando, Florida) arranges for folks to have their lawns farmed and/or register their fruit trees for harvest. A homeowner's lawn then becomes a "farmlette." Throughout the season, Fleet Farming organizes regular "swarms" of volunteers on bikes to go from farmlette to farmlette to prepare the area, plant, care for, harvest and transport produce. Ditto for harvesting fruit trees. Once the produce and fruit is harvested, the all-volunteer team preps and markets it.
A portion of the produce (10 percent) is traded to volunteers and to the farmlette hosts. The remainder is sold commercially at: 1) Audubon Park Community Market (a farmers market). 2) To local chefs through Local Roots Farm to Restaurant Distribution Company. 3) Through a Local Roots Farm Store. Proceeds from commercial sales go back into the enterprise to fund material needs and expand the program.
Now, how Fleet Farming came to be cannot be overlooked. Initially, a think and do tank called the "Hive" was meeting over the topic of localizing food systems. This think tank was organized by IDEAS For Us. Ideas For Us is a 501 (c)(3) non-profit accredited by the United Nations. It seeks to advance sustainability through campus and community action. IDEAS stands for Intellectual Decisions on Environmental Awareness Solutions. Aiding the creation was local businessman – John Rife – owner of the East End Market, a neighborhood market and cultural food hub. Rife now provides material assistance to the effort by donating time and storage in an Incubator Kitchen and food growing space in a garden area of the East End Market.
What is important is that Fleet Farming came out of a conscious effort of capable business people, professionals and community participation. It's like a whole group of people came together in a déjà vu from the late President John. F. Kennedy's 1961 Inaugural address: "Ask not what your country can do for you – ask what you can do for your country." Does the larger universe want Fleet Farming to come into greater expression?
Chris Castro (left) is a co-founder of IDEAS the non profit sponsoring Fleet Farming. Heather Grove (right) is the Fleet Farming Program Coordinator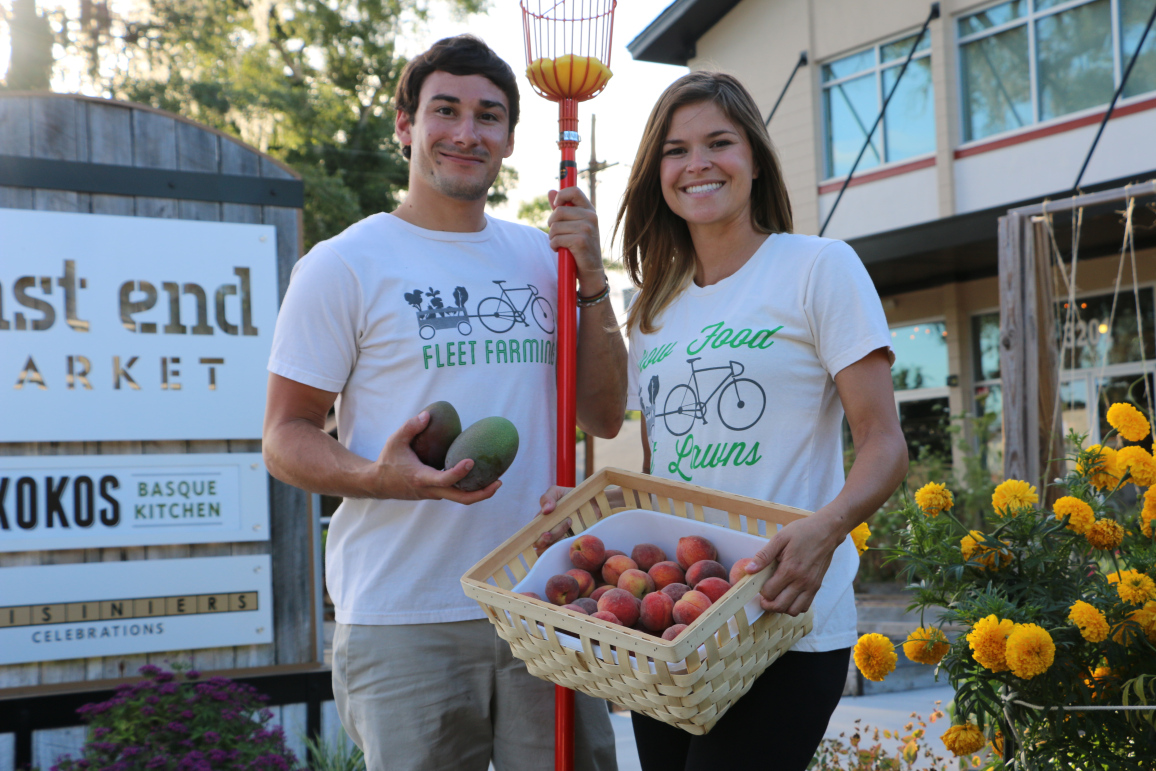 Chris Castro (front) with volunteers prepping a garden site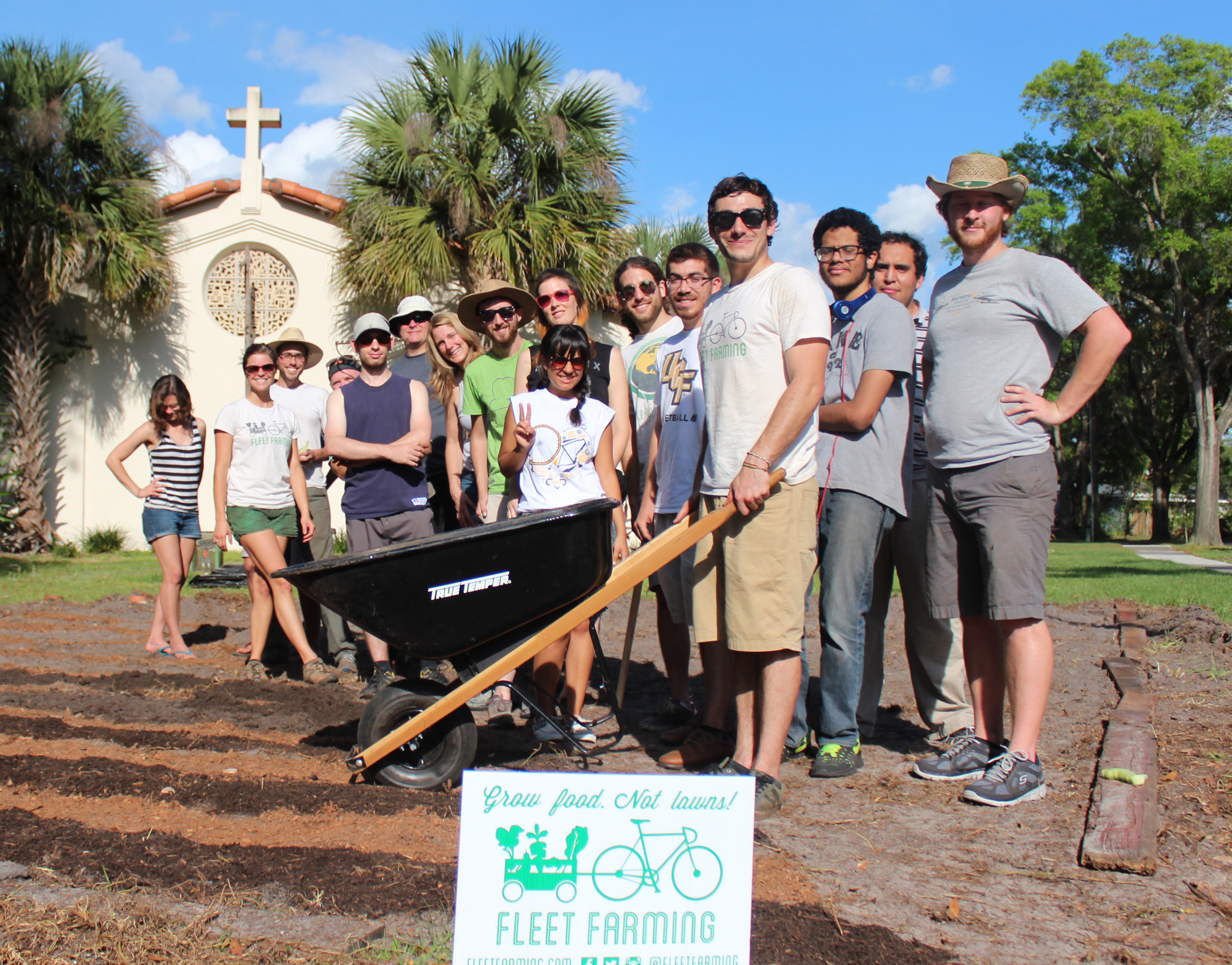 Today, Fleet Farming is a program of IDEAS For Us. Much of the activities are overseen by Chris Castro a co-founder of IDEAS and Heather Grove, the Fleet Farming Program Coordinator. Few things provide as much insight into a project as what is in a person's heart. We asked Grove to share with us what she learned from her first year of experience. Following is her response that carries a surprisingly sophisticated and universal message:
"Aside from all of the business aspects like processing, accounting, marketing, and crop management, we personally learned a lot about urban farming. I'm not just referring to the mechanics like installing irrigation, but more to the significance it has in terms of its environmental and social impact. I have personally always preferred the idea of rural, bucolic farms over front yard gardens, but seeing the influence of Fleet Farming on our community has us rethinking our preference for landscapes. Fleet Farming has truly activated our community; to join us for exercise during the Swarm rides, to learn how to farm, to purchase organic local produce, to think more holistically, and to consider our lawns as resources not to be squandered."
"One of the more unexpected lessons was the level of interest from volunteers and the incredible demand from homeowners and landowners to convert their lawns into farmlettes. We had over 200 inquiries from future hosts and had over 100 unique volunteers over the past year. Urbanites crave connection with their environment and Fleet Farming couldn't be a more convenient outlet to get outdoors, exercise and learn how to farm. As much as we value our hosts, volunteers and apprentices, we have learned that they all also receive value in some form of food, friends or education, forming a mutualistic relationship between us all."
From its inception less than two years ago, Fleet Farming has gone through a tremendous learning curve to land on the steps of a portal to the future of food. That portal is the universe that opens when the hands that eat the food are the same sets of hands that participate in the food chain. The "aha" moment for Touch the Soil News is that the name "Touch the Soil" was originally intended to conceptualize what Grove so eloquently put to words above.
What are the long-term ramifications of a food chain that seamlessly engages the public's daily need for exercise, friendship, nutrition and purpose of life? Fleet Farming volunteer Eric Almasi gives us a hint of the future:
"When volunteering with Fleet Farming I feel engaged in something unique and impactful in the Central Florida community. When we are working the farmlettes we are building friendships, creating community, and investing ourselves in a highly-functional urban farming and food distribution model. My wife and I are always eagerly awaiting the next SWARM ride and opportunity to purchase the amazing product at the market."
When asked about the future, Grove explains "In the next 50 years, I would hope that every large city in the U.S. and at least one city in every farmable county has a branch of Fleet Farming or some kind of urban farming program."
Following is a short video clip on Fleet Farming.
Want More? - Sign up below