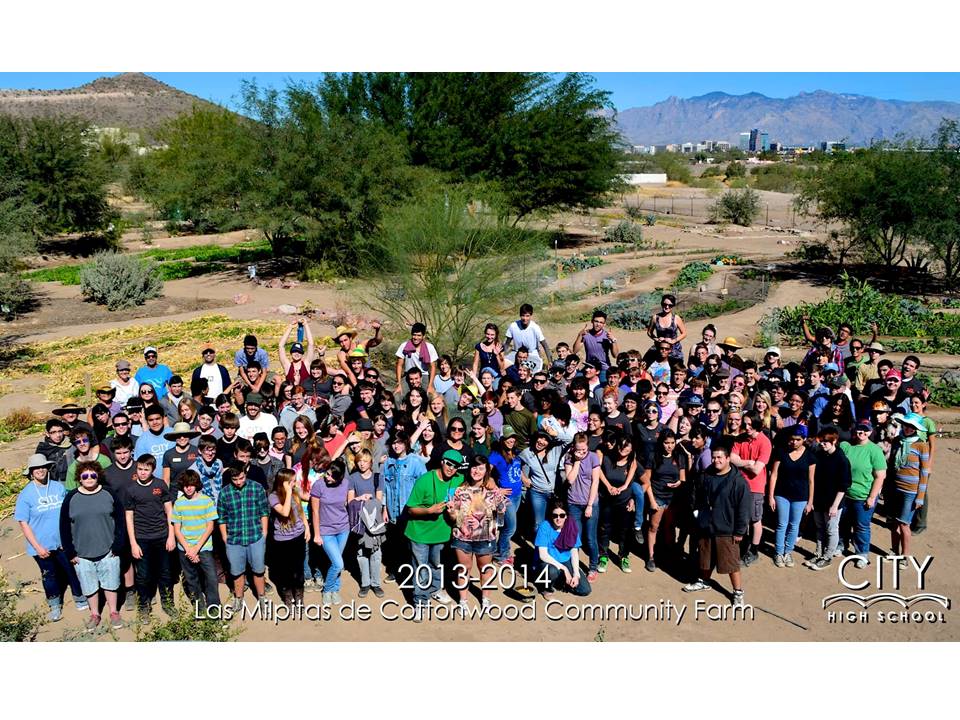 Touch the Soil News #822 (Feature photo – students learn about food literacy via the farm owned by the Community Food Bank of Southern Arizona – photo courtesy of City High School)
The Community Food Bank of Southern Arizona owns a 6-acre farm that serves a multitude of purposes to include:
Food grown by food-bank staff members for food bank clients and/or to sell at farmers markets to SNAP and WIC program recipients.
Organize and provide seeds and other inputs to families wanting/needing to learn how to grow their own food.
Organize volunteers to help in all aspects at the 6-acre farm.
Teaching food-literacy to include such things as nutrition, gardening and cooking.
Introduce children and young adults to food gardening and volunteer service.
At the heart of the 6-acre farm (called Las Milpitas) is to provide a place in which access to land, water, seeds, training and assistance is given free to the community. Local schools use the farm as an outdoor classroom to teach food literacy.
The emerging engagement of food banks into food production, food gardening training and local food systems expands the focus of just feeding people in need. More than just needy people are being engaged in what has evolved into the world's largest "sharing" food system. Food banking in America has grown from being just a temporary assist for folks experiencing hard times. Today, almost 60,000 charitable organizations have some form of food-charity program that underpins what has become a permanent need and condition in the U.S.
While it doesn't seem like big news, America is flirting with a food system whose "sharing" aspects may increasingly envelope a larger share of the food chain to include folks not in the "needy" category. The Community Food Bank of Southern Arizona is no small organization – with an annual budget of over $70 million, it serves five counties with a combined population of 1,250,000.
Want More? - Sign up below