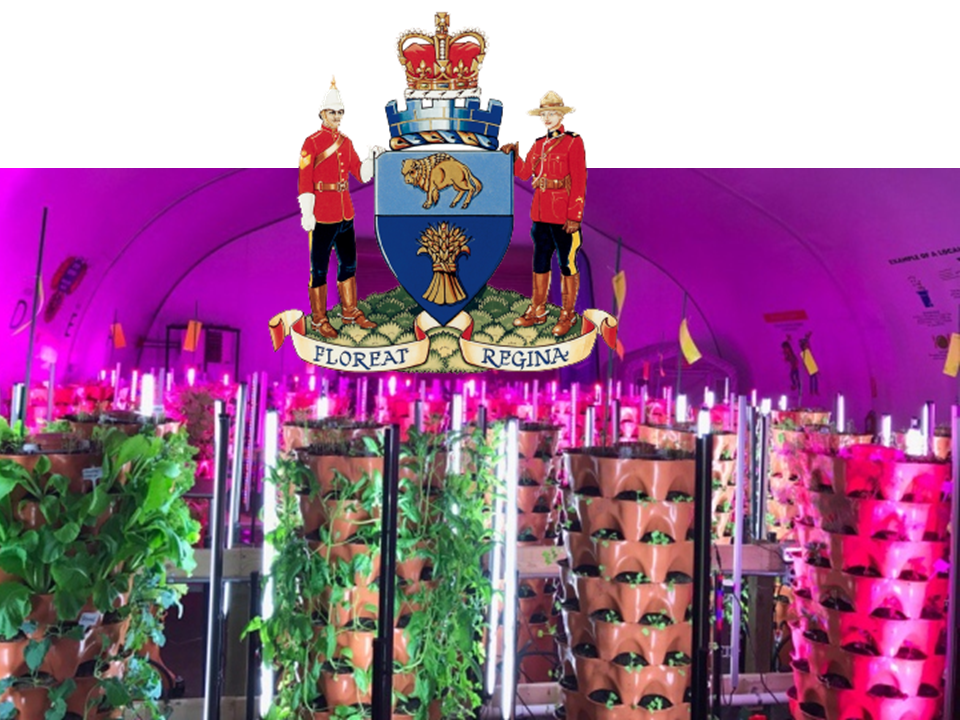 Touch the Soil News #693 (photo courtesy of Regina Food Bank)
(A news editorial by Benjamin Gisin)
Involvement in the economy in direct physical terms (limiting, if not bypassing, the use of money) is simmering around the world for one reason – too many hungry people.
The Canadian province of Saskatchewan is very large – about the same size as Texas. Its capital city – Regina – is a modern city of 220,000 people. Regina is known for having one of the most progressive food banks in the world. In a nutshell, they collect an average of 3.5 million lbs. of food a year (almost 90 semi-trailers) and fulfill almost 100,000 requests for service.
What caught our attention about the Regina Food Bank is a project – Four Seasons Urban Agriculture Project. The project is a full-fledged entry into urban agriculture and growing food as opposed to the historical model of seeking only donations.
Our feature photo (above) is an indoor building with 48 garden towers to grow fresh produce. It is a new facility for the Regina Food Bank to get into agriculture via indoor vertical farming.
Each tower utilizes only 4 square feet, but can hold up to 72 plants. But that's not all. Inside each tower is a tube used to compost organic waste using worms – a vermicomposting system.
The Regina Food Bank is going a number of steps further. They are engaging community volunteers to run the indoor farm, organizing food-growing classes for the public and food insecure. The Regina Food Bank is also engaging schools and corporate groups to learn about the positive health aspects of growing food and working with nature's soils.
The Regina Food Bank is re-inventing food banking and the food system. Its larger vision of including the mainstream population in their food along with allowing food insecure folks to participate in growing food is a huge departure from the original focus of food banks. Emerging under the radar of public awareness is the growing communication and collaboration of food banks on an international plane.
In America, food banking is a collaborative effort executed by almost 60,000 charitable organizations around a framework of hundreds of food banks. Many of these food banks are also entering the fringes of what the Regina Food Bank is doing. The world's resolve to end hunger is pushing for answers that challenge what we know about human relationships and economics.
Want More? - Sign up below