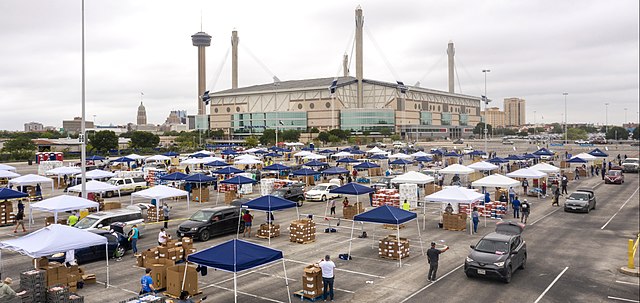 Touch the Soil News #1786 (Feature Photo  – Food Distribution in San Antonio Texas – USDA Public Domain)
Did you know that most food banking in America, is orchestrated and aided by a national organization called Feeding America? Feeding America works with 200 large regional food banks, the further serve over 60,000 local charitable feeding programs. Charitable feeding programs include things like local food pantries, soup kitchens, summer meal programs and on and on.
Food banking in America now helps almost 50 million Americans which face a variety of barriers to food access. These barriers include unemployment, food price inflation and/or low wages. Indirectly, the need to use food banks can also come from high housing, health and transportation costs that overtake a family's budget.
Is food banking the long term solution to poverty? Or is there a larger issue with the distribution of purchasing power through adequate employment and more jobs?