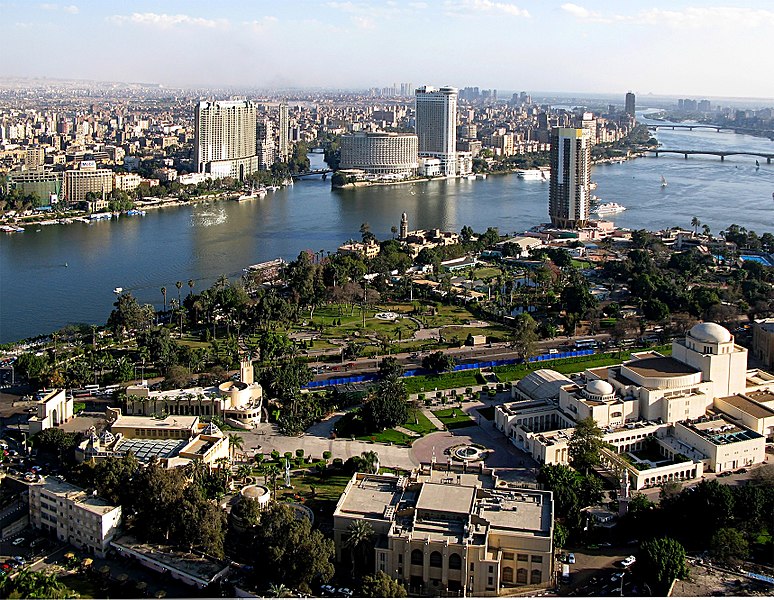 Touch the Soil News #851 (Feature photo – Nile River flows through Cairo, Egypt – public domain by Radusandei)
In the U.S., most of the water from its rivers belongs to the U.S. However, in a global economy, what happens to waters elsewhere has direct impact on the U.S. A shortage of water for crops elsewhere brings food hungry nations to the U.S. borders looking for food produced by U.S. waters.
Across the world to Africa, waters from the largest river – the Nile – is shared by 11 nations, the two largest being Sudan and Egypt.
Sudan just happens to have one of the largest remaining "treasures of unused farmland" left in the world. Estimates are that Sudan has over 100 million acres of land suitable for farming. But that requires water.
Global pressure to develop and farm the Sudan are growing and reaching a competitive era. As Sudan courts the world's largest investors – and food hungry nations from the Middle East, China and India – Egypt, the last nation through which the Nile flows is getting worried.
According to a 1959 agreement, the Sudan is allocated 4.9 trillion gallons of water out of the Nile River each year. Egypt is allocated 14.7 trillion gallons of water a year. Now that may seem like a lot of water. However, to irrigate an acre of potatoes takes almost 1 million gallons of water a year. In other words, Sudan's 4.9 trillion gallon allocation out of the Nile is only good for about 5 million acres of potatoes.
If the Sudan wants to embrace high value crops on it's roughly 100 million acres of undeveloped farm ground, who is to monitor and enforce the 4.9 million agreed upon allocation. When it comes to food and money, there could be a fight brewing. What makes the situation all the more explosive is that both the Sudan and Egypt are already using their entire allocation of water. However, populations in both nations are expanding and populations around the world are expanding – some of which are looking for more food from the Sudan.
How many other similar scenarios are unfolding around the world? Global water experts say there are many water hot spots that are only going to increase in intensity. What do you think should be done?
Want More? - Sign up below