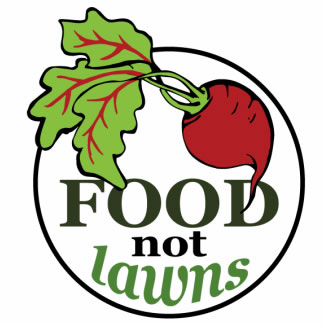 It was back in 2006, Susan and I were publishing the magazine Touch the Soil. We were doing stories in Eugene, Oregon and hooked up with Heather Flores who had just published the book "Food Not Lawns." Since then, Heather has sold over 25,000 copies and helped launch the Food Not Lawns movement: http://www.foodnotlawns.com/about.html
Since then the Food Not Lawns movement has spread into over 55 chapters across the United States, three in Canada and one in Australia. This year, Heather Flores is embarking on an International Tour to some 30 cities in the U.S., Canada and the UK.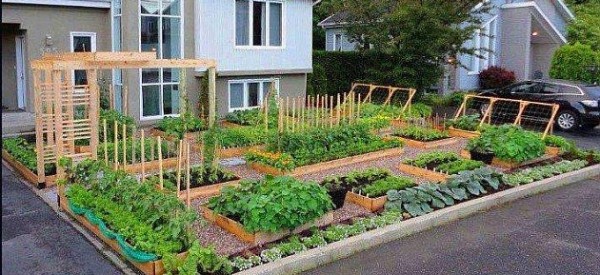 In a rather unanticipated emergence of events – drought and poverty in California – some watershed legislation has come to the fore that strikes hot on the Food Not Lawns paradigm in a big way. Let's recognize that California is the most populous state in the union. If it were a country, California would be the 8th largest economy in the World. What happens in California often ripples around the world.
California Assembly Bill No. 2561 was signed into law on September 26, 2014. While it did not make headline news, citizens of California have the right to "personal agriculture" which the Assembly further encouraged to take place on lawns. The new Law makes it illegal to prohibit anyone from raising food on their lawn, even if the lawn they have is restricted by a Homeowners Association.
The reasons for passing this law are as illuminating as the law itself. Following are key points of why the law passed, points that are incorporated into the text of the law itself:
Providing Californians with the capacity to feed themselves and their communities would drastically improve local food security and mediate the risks of water, soil, environmental, or fuel-related crises.
Although California is the "bread basket" of the United States and has regions of climate and land ideal for agriculture, a significant amount of California's food is grown hundreds or thousands of miles from where it is consumed. This results in high transportation costs, energy consumption, and lost economic opportunity for our state. Even food grown in the heart of California's farming region is expensive to disperse to the rest of the state due to rising fuel costs.
One of every $10 dollars spent on health care in the United States goes toward treating diabetes and its complications. Facilitating opportunities for California residents to grow and consume fresh, healthy foods will promote lifestyles and diets that benefit individuals and communities, as well as being a more effective use of public moneys.
According to a 2011 United States Census Bureau report, California has the highest poverty rate in the United States. Giving California residents the right to grow food where they live will help reduce food costs and the overall burden of poverty for low-income Californians.
Lawncare is resource intensive, at no nutritional gain. Lawns are the largest irrigated crop in the United States. In the urban areas in the United States, 30 to 60 percent of residential water is used for watering lawns. In arid and semiarid regions, this figure can reach up to 75 percent. Annually, 67 million pounds (33,500 tons) of synthetic pesticides are used on lawns in the United States. Furthermore, lawnmowers use 580 million gallons of gasoline yearly. These resources could be allocated to more productive activities, including growing food, thus increasing access to healthy options for low-income individuals.
Uploaded here is Heather Flores' latest video and more insights into the Food Not Lawn movement.
Want More? - Sign up below