Touch the Soil News #427
Normally, when it comes to food and agriculture we get directives from places like the USDA or the FDA (Food and Drug Administration). But as we have been covering in our news pieces, the frequency of food and agriculture innovations are just as likely to come from city municipalities.
Recently, the city of Fort Worth, Texas (a metropolis of 850,000) put out an interesting 14-page document concerning urban agriculture amendments to the city's zoning ordinance. Worthy of note is a vision statement by the city at the introduction to the proposed ordinance:
The City of Fort Worth wants residents to live longer and healthier lives. This guide has been prepared to help you and your neighbors grow fresh, healthy food in the City of Fort Worth.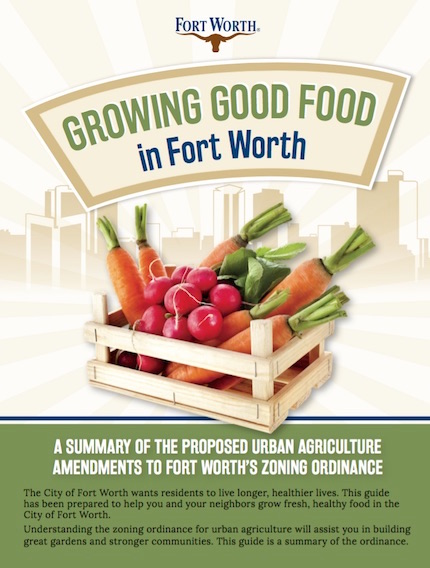 One can only wonder what the USDA or the FDA think about the growing move by cities to come in and fix a food system that is materially the domain of the FDA and USDA?
The city of Forth Worth put out the following benefits to be gained by fostering urban agriculture:
Make fresh fruits and vegetables more readily available.
Provide income for people who want to grow and sell produce.
Community food can supply local businesses, schools and nonprofit organizations.
Create jobs and teach people how to grow food.
Utilized underused vacant lots.
Foster beekeeping to help pollinate urban food.
The proposed Fort Worth ordinance is designed to allow urban farming, aquaponics in covered structures and the sale of produce in all zoning districts (residential, commercial and industrial). New urban farmers can contact the city to arrange for a pre-development conference – helping the new farmer get started.
For a copy of the 14-page document go to:
Want More? - Sign up below