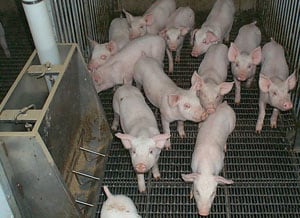 Touch the Soil News #1300 (Feature photo – Confined Pig Operation – Public Domain)
The National Pork Producers Council (NPPC) announced that it was cancelling the World Pork Expo that was to be held at the Des Moines, Iowa fairgrounds. The three-day event would have brought in some 20,000 attendees from all over the world.
The World Pork Expo has been the key event for the global pork industry for 30 years. Because of the significant problems with African Swine Fever in China and other East Asian nations, the NPPC decided to take an abundance of caution to avoid risks of further exposing the world to the African Swine Fever.
There are no cures for the fever that is now sending jitters and ripples through the global pork industry, though humans are not affected. Because China represents almost half of the world's pork production, prices and supplies have become uncertain their as thousands of pigs are culled who have been exposed to the African Swine Fever.
Southeast AGNET provides more of the story here:
http://southeastagnet.com/2019/04/10/nppc-cancels-2019-world-pork-expo-precaution/