Touch the Soil News #304
Every year the USDA puts out a report on the amount of land farmed in America. The peak farmland year for America was 1954 when the nation farmed approximately 1,206,355,000 acres. By 2015, that number had shrunk to 913,000,000 acres – a decline of 293.355.000 acres. Now that is not all of the acres lost as there were millions of acres broken out of sagebrush and put into farming between 1954 and 1975. There are no statistics available on the new acres of farmland that were coming online that were camouflaged by the greater number of farmland acres disappearing. Our best guess conservative estimate is that number could be 32 million acres. This means that since 1954, the nation has lost 325 million acres of farmland – that's an average of 5,327,868 acres a year for 61 years.
The low value of food production relative to the high value of housing development has compromised the strength of agriculture. The U.S. alone has lost a volume of farmland capable of meeting the largest part of the nutrtional needs of 1 billion people.
Since 1954, America has lost an average of 600 acres of farmland per hour. The rate of loss since 2010 has averaged only 160 acres per hour – meaning that prior to 2010 the loss exceeded 600 acres of farmland per hour.
What is disconcerting about these numbers is that a majority of the acres lost represented the best farmland the nation had. Early cities developed around the best farmland and water and then simply paved over them as they grew.
In 1950, there was 7.9 acres of farmland per person in the U.S. By 2015, there was only 2.8 acres of farmland per person in the U.S. – roughly 1/3 of what it was 65 years ago (see Info Graphic #1)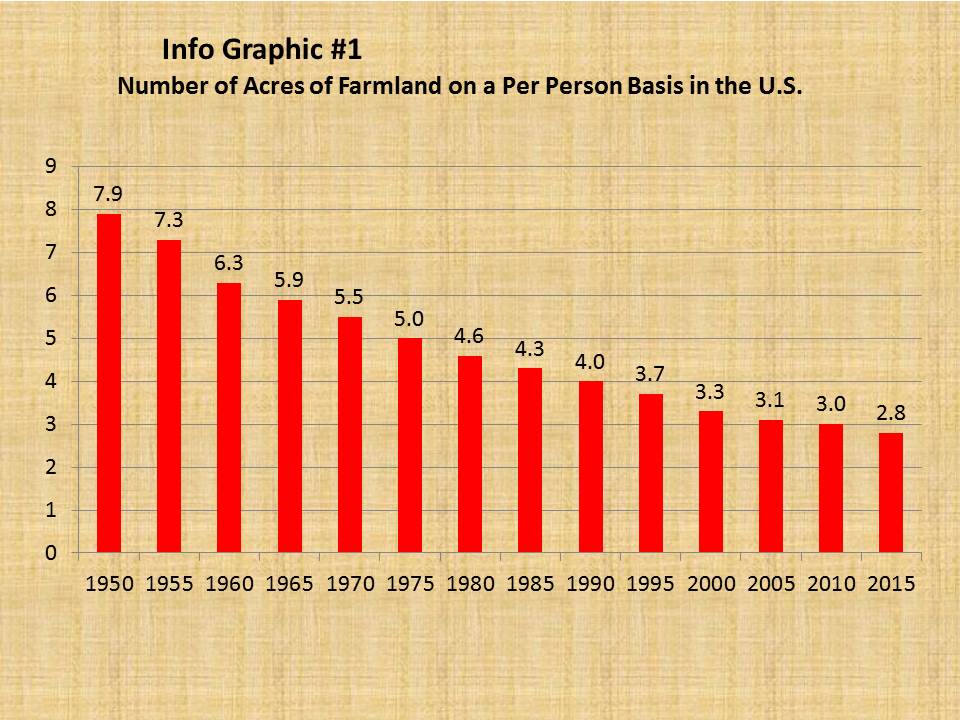 Want More? - Sign up below