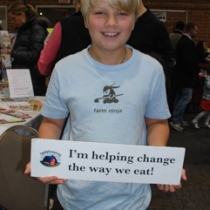 Thursday, Friday & Saturday. March 19-21, 2015 at the UIC Forum on the University of Illinois Campus
The 11th year of America's top conference on local/alternative food. The Good Food movement is about the myriad of aspects related to escaping the industrial food system and expanding access to sustainably produced fruits, vegetables, dairy and meat products.
Thursday, March 19th – Finance and Innovation
Over 25 speakers including urban farmers, retailers, investment capital, food processors and business innovators.
Friday, March 20th – Trade, School Food, Producers & Policy
Over 30 presenters covering topics such as branding your products, scaling up local meat, local foods pricing and getting on the shelves. A special "Meet the Buyers" reception afterwards.
Saturday, March 21 – Good Food Festival
Urban Farms Bus Tour visits four (4) of Chicago's cutting edge urban farms. Stop #1: Windy City Harvest – a job training program offering certificates in horticulture and urban farming. Stop #2 The Plant – a collage of projects including a rooftop farm, an outdoor farm, aquaponics, hydroponics, mushroom growing, bakery and Kombucha brewery.
The 2015 Illinos Farmers Market Conference – an entire day dedicated to all aspects of farmers markets.
Chefs at Play – features cooking demonstrations that pairs up local farmers with some of Chicago's finest chefs. There is food tasting and empowering kids in classroom cooking.
The Exhibit Floor of the Festival is open all day Friday and Saturday. With over 160 exhibitors it is the largest of its kind in the local, urban and sustainable food paradigm. One third of the exhibitors are local and sustainable farmers.
The Good Food Festival is a project of FamilyFarmed.org , a 501(c)(3) non-profit headquartered in Oak Park Illinois. www.familyfarmed.org
Want More? - Sign up below