Touch the Soil News #554
The huge meat company Smithfield owns brands like Weight Watchers, Armour and Butterball. Smithfield began operations in 1946 and fell under criticism by the USDA in 2006 for becoming too big after buying out dozens of its competitors over the years. Ironically, in 2013, the U.S. approved the sale of Smithfield to Chinese pork conglomerate WH Group. At the time, Smithfield was the world's largest pork processor.
With Smithfield in their pocket, The WH Group just now happens to be the world's largest pork processor. Incidently, the WH Group just purchased California's largest pork processor – Clougherty Packing LLC which owns the Farmer John brand and processes about 7,400 hogs a day. Farmer John is the No. 1 bacon and sausage brand in Southern California. The purchase price was $145 million, a price the WH Group CEO Mr. Wan Long said was a reasonable price.
Mr. Wan Long, CEO of the WH Group stands in front of company employees. Mr. Wan Long is striving to reduce company debt within the next year or so in order to position itself for more mergers and growth.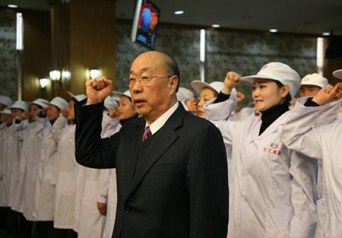 Smithfield was criticized by the USDA for being too big and now the WH Group with its acquisitions towers over the former Smithfield. The WH Group is now listed in the Fortune 500 list of companies globally.
With the new California acquisition, the WH Group will process around 41,000 hogs a day. The WH Group has its eyes on getting bigger and become a leader in other meats such as beef and chicken. The World's largest meat company today is JBS SA of Brazil. One wonders, will the pendulum ever swing back to a more decentralized and local food chain?
Following is a video clip featuring CEO Mr. Wan Long.
Want More? - Sign up below