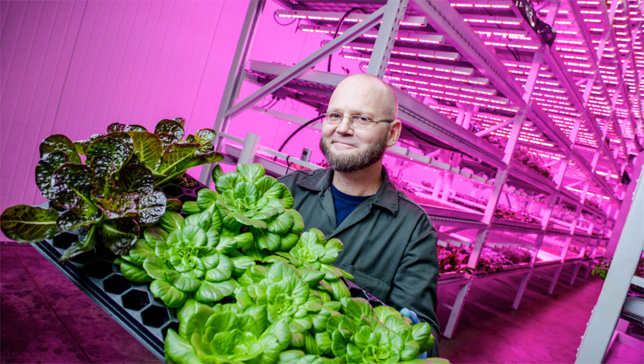 Touch the Soil News # 133
When it comes to raising food, most farmers think about things like land, tractors, harvesting equipment and chemicals. For some crops this may not change much. For other crops, particularly lettuces, micro-greens and herbs, the future may be totally different.
Green Sense farms, working with Royal Phillips – a global leader in lighting – is taking a completely different approach. Capital expenditures for setting up farming include specialized LED lighting, a large indoor facility, growing towers and a physical location that puts them within 100 miles of 20 million people.
Photo courtesy of Green Sense Farms – from left to right Rob Schlyer - general counsel and investor relations, Carl Wenz – founding farmer, Robert Colangelo - president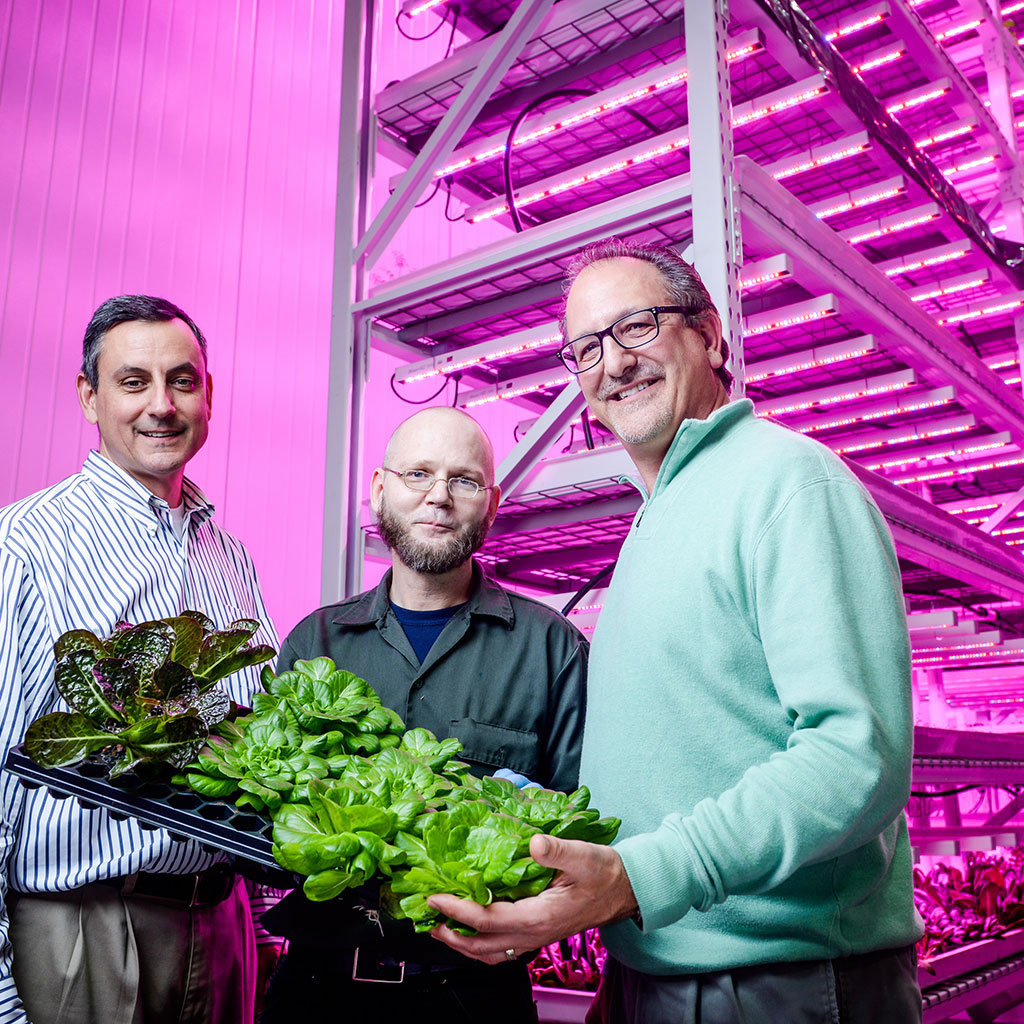 The produce that Green Sense Farms grows includes culinary herbs, leafy greens, micro greens and lettuces. The company has invested millions of dollars to renovate and equip a 1 million cubic foot indoor growing area (30,000 square feet on the level). Included within are fourteen 25-foot tall growing towers in two climate controlled grow rooms. At the heart of the technology are Phillips energy efficient LED lights tailored to specific crops. Phillips has discovered that lights in the red and blue spectrum promote maximum growth and best flavors. This allows Green Sense Farms to have a harvest every two weeks.
Working with Royal Phillips, Green Sense farms is able to do what no other farm is able to: provide constant and perfect lighting to all plants 365 days a year. Green Sense Farms grows it plants in coconut husks optimized for moisture retention.
Since soils and sun were not the primary question, the facility where the technology is installed was. Robert Colangelo, President and founder of Green Sense Farms, looked for 18 months to find the right building, located adjacent to large population centers. His goal was to provide fresh food that goes from farm to plate in 24 hours. Portage, Indiana is on the South end of Lake Michigan and on the outer fringes of the greater Chicago metropolitan area.
According to Green Sense Farms, they use only 1/10 of a percent of the water, land and fertilizer of outdoor field farming. They use no pesticides, herbicides or preservatives and are organic certified.
Moving forward, Green Sense Farms has visions of creating these mega-indoor vertical farms adjacent to institutions such as college campuses, hospital complexes and military installations. Following is an insightful news video by CBS News on Green Sense Farms.
Want More? - Sign up below