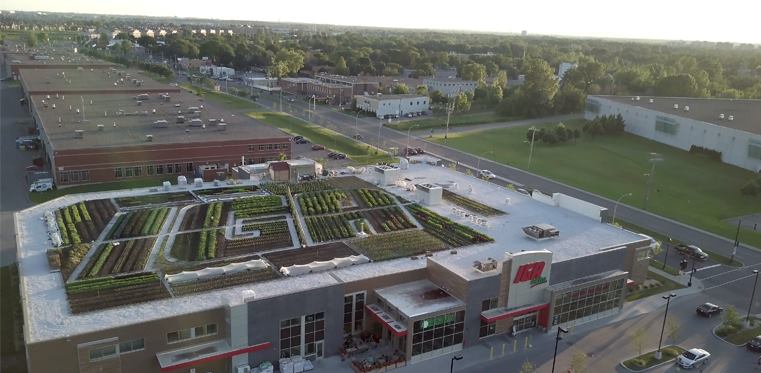 Touch the Soil News #758 (feature photo courtesy of Montreal IGA)
Claiming to be the first grocery store in Canada, an IGA store in Montreal now has a 25,000 square foot roof garden (slightly over ½ acre) that produces over 30 different kinds of produce. Situated on a building that is LEED Gold certified. LEED certified buildings are resource efficient and use less water and energy and reduce greenhouse gas emissions.
The rooftop garden is irrigated with water collected from the store's dehumidification system, which would otherwise be discarded. All the food grown is organically certified, harvested and sold in the store itself along with other organic produce.
The roof-top farm was installed by Green Line Green Roof, a company in Montreal that also does landscaping, urban agriculture projects and roof terraces. Called "agritecture" the business of designing food into urban environments is gaining traction not just for food, but greening cities, mitigating heat, saving water and addressing climate change.
Want More? - Sign up below