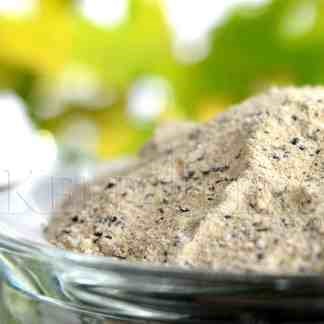 Touch the Soil News  / Product Review #102 (Feature Photo  – Grow Pack  – (Kelp4Less)
The Grow Pack is the best effort at creating a blend of organic and conventional nutrients for the vegetative growth stage of your plants.  The product represents all the base nutrients for any grower's program.
To maintain product integrity prior to mixing, Grow Pack comes in two packages.  The Calcium and Magnesium come in a package and the other nutrients come in a package.
Following are the nutrient highlights of Grow Pack:
Calcium (3 Forms)
Magnesium (2 Forms)
Micro Nutrients (8 Forms)
Macro Nutrients (All NPKs)
Bio-stimulants
Sugars
Amino Acids
Kelp Extract
Yucca Extract
Molasses Powder
Mycorrhizae
 Beneficial Bacteria
Trichoderma
pH Acids
Grow Pack comes as a dry mix that is water soluble.  Its versatility allows it to be used in hydroponic systems as well as soil and soil-less situations.  After the development and commercialization of the Grow Pack blend, following are responses they've received:
"All you need for developing prime time plants in Veg, I'm sold."
"Thanks for taking the calculus out of my nutrient program."
"This product replaces hundreds of dollars of expensive liquid fertilizers and micro-nutrients."
"After the Grow Pack entered my garden, the plants exceeded all expectations."
"New growth is fast and lush.  Very water soluble."
Grow Pack stimulates rapid structural and vegetative growth while assisting in building a more robust, healthier root system.  When using Grow Pack, you can expect savings on nutrients, more flower development sites, and an increase in yields.
Grow Pack order sizes come in 8 oz., 1 lb., 5 lb., 10 lb., and 20 lb.  For larger orders contact Kelp4Less.
Link to the Grow Pack Product Page:  https://www.kelp4less.com/shop/grow-pack/
Link to Grow Pack Customer Reviews: https://www.kelp4less.com/shop/grow-pack/#reviews