Touch the Soil News # 157
Popularly, when the topic of food fraud comes up, we think of foreign countries. Recently, Food Safety News had a special interview with Mitchell Weinberg – who is CEO of a food-fraud investigation firm. According to Weinberg, his company finds food fraud in 50 percent to 60 percent of the investigations they do. Weinberg explains that food fraud goes across the spectrum of all food and in virtually every country in the world. At the end of this story is a videotaped interview with Mitchell Weinberg that is revealing.
Food fraud touches many areas including:
When one food is substituted for another and it is not labeled.
False claims of food origin.
Processing compromises in terms of sanitation, foreign substances and particles.
Use of farm chemicals not legal in the U.S.
Food dyes and ingredients not approved by the FDA.
Unlisted additional ingredients.
Substitution of meat products such as horsemeat in beef burgers.
Deliberate contamination that is covered up.
Substitution of cheaper products behind labels of quality designation.
Mis-labeling of food that is organic or fair trade when it is not.
Purposeful organized food crime in which criminals seek to infiltrate complex supply chains with food that is either compromised or not what it is labeled to be.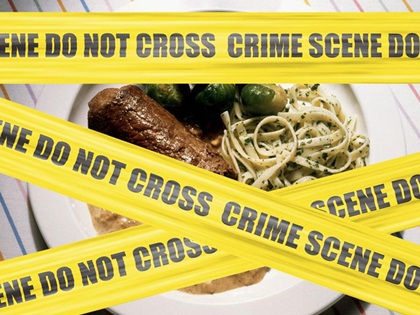 In virtually every nation, food sourcing has become globalized. In the U.S. some 90 percent of the all the fish we eat is imported. The U.S. is projected to import $117 billion worth of food in 2015. At this volume, the FDA inspects only 1 percent of the food coming in. Weinberg says there is a lot of stuff that can fall through the cracks.
Our dinner plates may contain foods from three of four different nations. Global food supply chains, for all of their benefits, also come with huge risks. The more complex the intermingling and processing of food, the more difficult it is to identify food fraud or the source of food borne illness due to food fraud.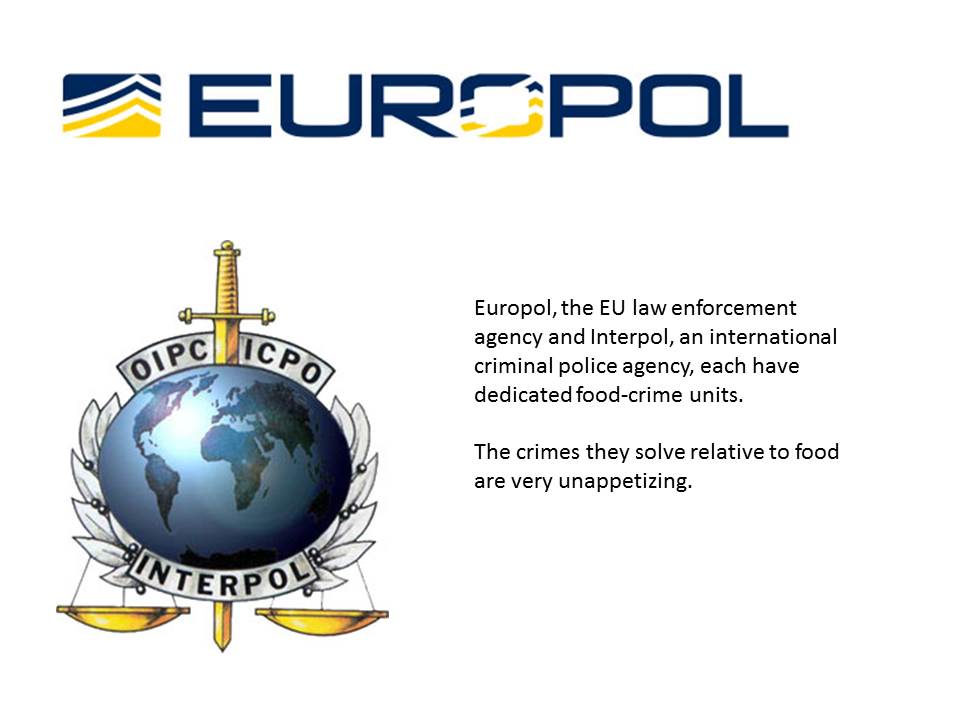 Both Europol (the law enforcement agency of the EU) and Interpol (an international criminal police organization) have dedicated food-crime units. Earlier this year Europol and Interpol intercepted hundreds of tons of compromised food to include cheese, eggs, mineral water, cooking oil and dried fruit in 47 countries over the course of just two months. Examples of some of their big busts include:
1) 31 tons of seafood labeled "fresh" was actually previously frozen and then doused with chemicals containing citric acid and hydrogen peroxide to hide that it was rotting.
2) Expired dairy products which were administered chemicals to appear fresh.
3) Cheese being smoked using burning trash as a heat source.
4) 35 tons of fake butter.
5) 85 tons of meat going into Thailand without health and safety testing.
6) Illegal dietary supplements.
Experts Like Mitchell Weinberg suggest that you look at food labels. If there are 30-40 food ingredients in one food, with a potential for multiple manufacturing practices, you might want to think twice. Spices, seasonings and oils are popular among food-fraud schemes as are honey, fish, meat and fruit juices.
Want More? - Sign up below