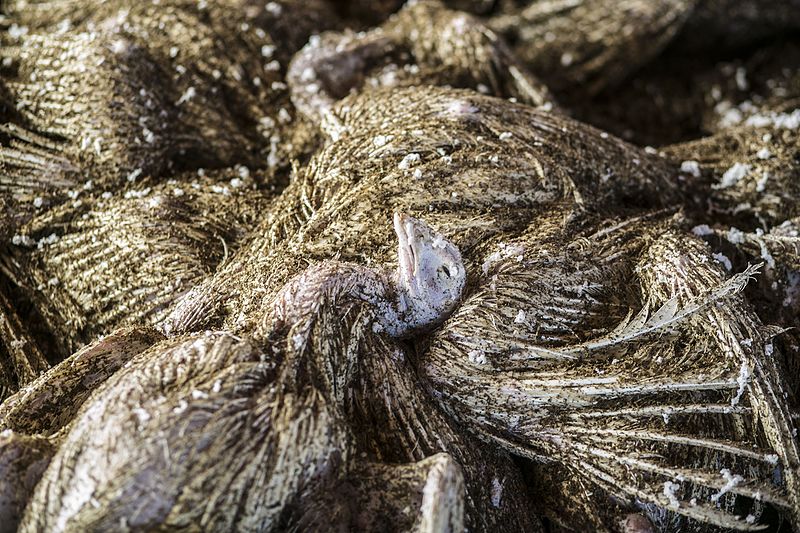 Touch the Soil News #603 (feature photo – euthanized turkeys after avain influenza was detected in the flock)
Many of the world's wild birds flying around are carriers of dangerous strains of Avian Influenza. Avian Influenza in confined animal operations – such as in egg laying hens dominated by one or two species – get sick and fellow hens have to be exterminated due to risk of contamination.
The U.S. was hit hard in 2015, when over 50 million laying hens were exterminated. The cost included $3 billion in lost sales and $1 billion in taxpayer dollars for the cleanup.
As we speak, freighter jets as carrying thousands of eggs from the U.S. to South Korea – whose egg laying hens have been hard hit with new strains of Avian Influenza. Experts are saying we must figure out how to drug the laying hens to stave off the Avian Influenza, but that tactic has not yet been figured out. As such, when one or two hens in a flock of 10,000 birds are infected, all 10,000 birds must be exterminated.
The current Avian Influenza epidemic has hit South Korea the hardest, but is spreading over Europe and Asia. This global outbreak has resulted in wiping out 32 million birds.
Some voices are saying that it is the practice of mono-culture (lack of genetic diversity in the hens) and the confinement conditions that are major contributors to the problem. These mega-epidemics of disease -rolling around the globe and infecting confinement animals – is a relatively recent development in human history. Maybe there is more to breaking up industrial agriculture than just animal welfare and fouling the environment?
Scientists are scratching their heads wondering why wild birds flying around the world with the virus don't get sick, but are sickening commercial hen farms. Following is an insightful video of the situation in South Korea:
Want More? - Sign up below