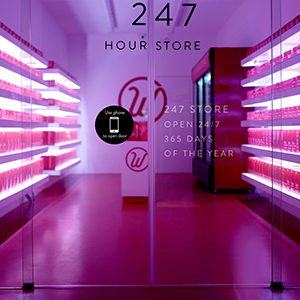 Touch the Soil News #655 (feature photo courtesy of Wheelys)
A new kind of convenience store is being explored. It has no employees. Customers download an app, provide information including a credit card number and they are ready to go.
It is called Wheelys 247. It's a humanless store in which the artificial intelligence talking system greets you when you come in. Your purchases are logged in as you taken them and then you walk out. You get an electronic receipt to IPhone. https://wheelyscafe.com/
The creators of Wheelys 247 envisioned a shopping experience with no lines, no people and no checkout. It's affectionately called Just Walk Out Shopping. The 500 square foot store (being tested in Sweden and China).
On the heels of Wheelys is one of the world's largest corporations – Amazon. Amazon is looking to unfold a similar – humanless – grocery experience called Amazon Go. Customers can have a similar Wheelys 247 experience.
One thing is for sure, this human-less development, is a far away place from Touch the Soil.
Want More? - Sign up below