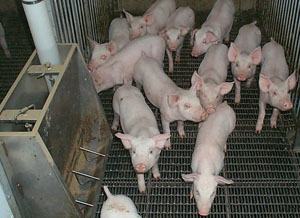 Touch the Soil News #827 (Feature photo – J.D. Bunod – public domain)
This year, 2017, Americas some 60,000 pig farmers have been operating under a new antibiotics use law. The new law does not allow pork producers to administer antibiotics that are medically important to humans of their own volition. Instead, the administration of medically important antibiotics to pigs can now only be done with the supervision an approval of a veterinarian. This does, however, not solve the larger public preference of moving to meat totally absent from antibiotic use.
Called The FDA Guidance 209 and 213, it seems that pig farmers have adjusted to having more veterinarian oversight – but still remain hooked on antibiotics.
On average, America's 60,000 pig farmers produce a whopping 25 billion pounds of pork a year out of which the average American consumes around 50 lbs. For perspective, annual consumption of meat in America is about 215 lbs. a year, which makes pork about 25 percent of American meat consumption.
Want More? - Sign up below