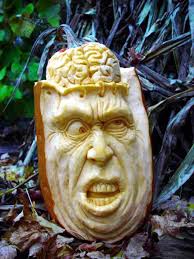 Okay . . . Halloween is really close, and this blog writer has jack-o-lanterns on the brain! Sorry folks! You'll have to suffer right alongside my husband! Hah!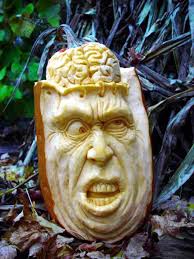 There are some really cool ways you can carve pumpkins though, and also – I was happy to find – some really awesome ways to use them that will actually help your garden! That totally means I get to find cool pumpkin pictures, write about them, and it's okay! Yay! So, here we go:
Pumpkin planters – okay. This is genius.  I love that you can use these as a planter, and then when they start to rot, you can COMPOST them!!! Yes!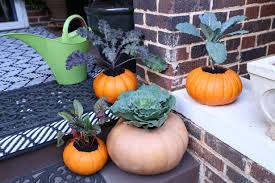 Simply the best idea ever. However, there are a few fun designs I saw relating to the garden, and I just loved them, so I had to share them with you! Here we go: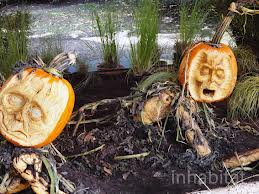 I happen to think those are hilarious. Next up: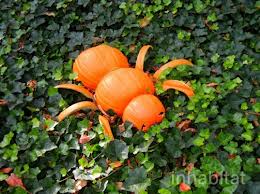 Or, you could go nuts and make this guy: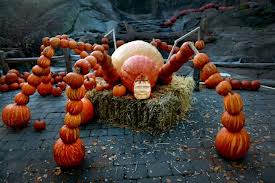 Okay. If you are going to go to this much effort (or anywhere near it) you want to preserve your pumpkin, too, right? Well, I found a pretty fun article where some scientists (why did no one tell me this is what scientists did?) experimented on some carved pumpkins to see what they could do to make them last longer. The full article is here.
Basically, the point was to test different methods of pumpkin preservation: white glue, vaseline, bleach, acrylic spray, and Pumpkin Fresh. Well, I won't keep you in suspense- the Pumpkin Fresh won out, but bleach was a pretty close second (eliminating the pumpkin with nothing on it). Your best bet, if you don't feel like soaking a pumpkin in bleach for 8 hours that is, is to just keep the pumpkin at a reasonably steady temperature, and don't let it get too wet. You can probably make them last upward of a week. It's a fun article though! Highly recommended!
So, in the spirit of a fun article, that's all I'll say, except Happy Carving! 😉