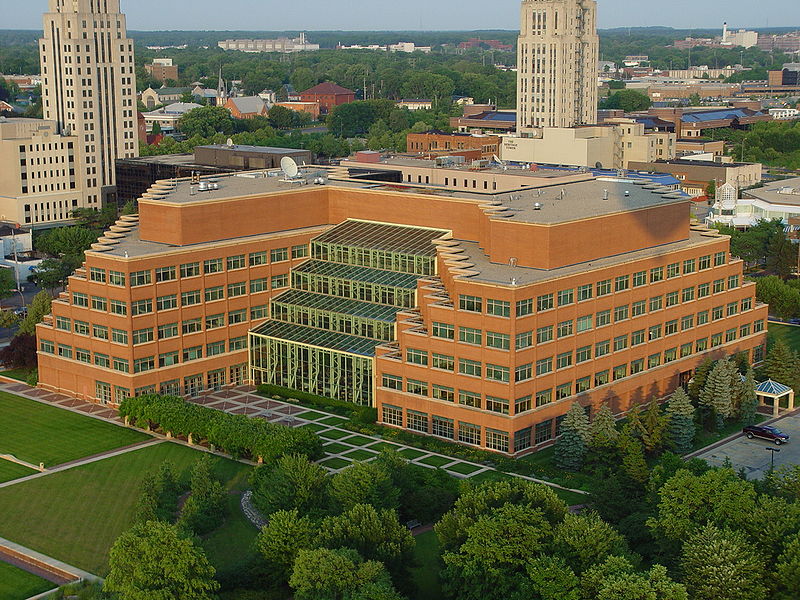 Touch the Soil News #718 (feature photo – Kellogg world headquarters in Battle Creek, Michigan CC SA 2.0 Battle Creek CVB)
The Kellogg's Company is laying off over 1,000 employees as it closes 39 distribution centers over the next few months. The company says it is going to a "warehouse" model to handle its distributions – though it was not clarified what that really means. The famous breakfast cereal maker began operations in 1906 as the Battle Creek Toasted Corn Flake Company.
At present the company has approximately 33,500 employees. The company will be looking to lay off about 3 percent of its employees. When 1,000 jobs are lost at one company, the domino effect across the broader economy can be twice as large or more.
The Kellogg's Company's sails are losing wind. Over the past four (4) years, sales have dropped every year from $14.8 billion in 2013 to $13 billion in 2016. Net income, over the same period has literally been in a free fall. Net earnings in 2013 of $1.8 billion dropped to $694 million in 2016.
While media and a small cadre of economists say the nation is on economic recovery and jobs are up, one wonders where the proof is? Over the past couple of years employment number crunchers have said the nation has been adding somewhere between 175,000 and 180,000 new jobs a month. Does this sound like progress?
Well, when you consider that America's population is growing by 2.5 million a year (208,000 a month) it's not just Kellogg's whose financial future is in question. By these calculations, the nation is falling short of creating enough jobs by some 28,000 a month.
In the long run, it seems more people and more communities will be growing food and getting engaged in the emerging "participation" economy. We know people can work together, can Kellogg's?
Want More? - Sign up below