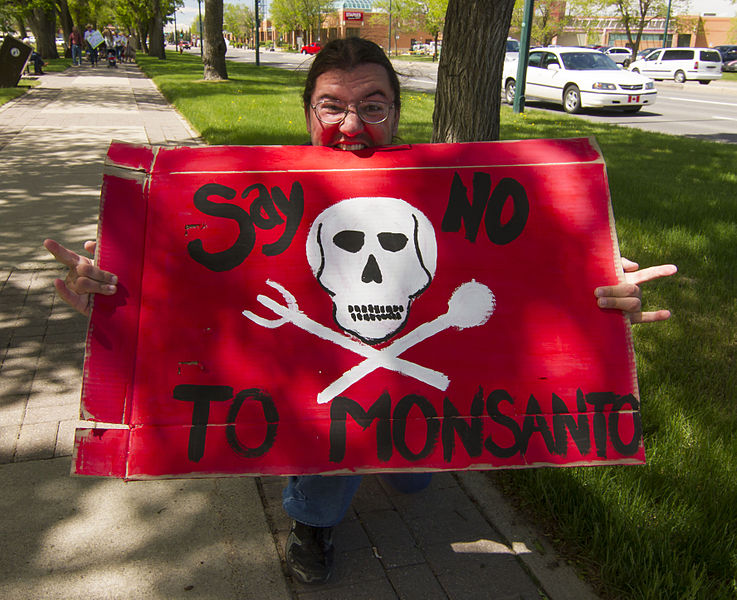 Touch the Soil News #206
Many are familiar with Bob Dylan's song – Knocking on Heaven's Door. The lyrics of the song talk about getting close to knocking on heaven's door. So, is Monsanto having problems that are serious? We'll let you be the judge.
Inspecting a Monsanto facility in the Netherlands (photo - Luther Bissett - Licensed under Creative Commons Share Alike 2.0)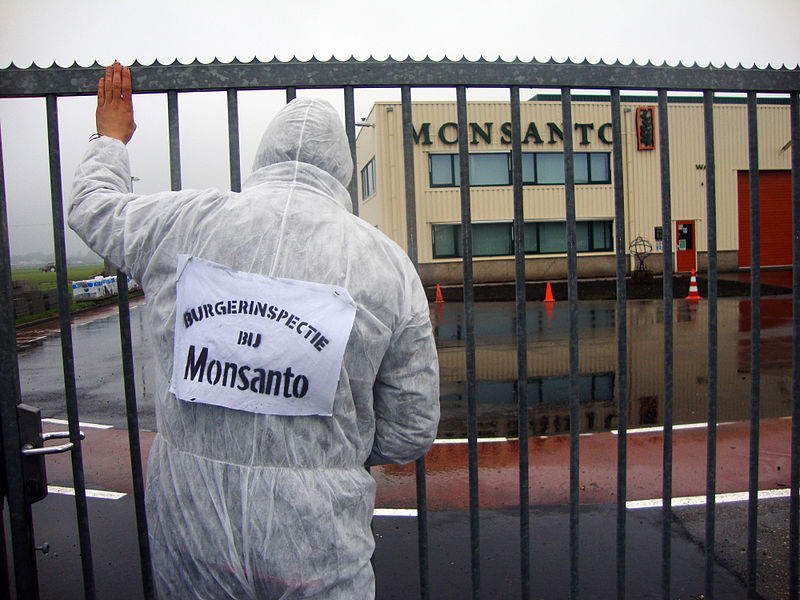 Following are a number of problems/issues that Monsanto is currently plagued with. Together, all of these items carry a real punch.
Monsanto made several "desperate" attempts to buy Syngenta. Syngenta is a Swiss company in similar lines of business with success in geographic areas not dominated by Monsanto. Monsanto failed to acquire the company, even though it offered a $3 billion safety payment to Syngenta should the deal fail along the way. Why was Monsanto so desperate?
Monsanto's Chief Technology Officer recently told Reuters News that Monsanto was working to reposition itself as a company built on data science and services – a complete break from its traditional GMO focus. Is Monsanto's original business model flawed?
Over the last 30 days, the largest nations in the European Union have opted to ban the growing of GMO crops in their nations. There were 15 EU nations representing 65 percent of the EU population and 65 percent of the farmland in the EU. This was a global blow to Monsanto's public image and credibility.
On Wednesday, October 7, 2015, Monsanto announced to Reuters News that it was slashing 2,600 jobs – 11.6 percent of its workforce. This restructure will cost Monsanto some $850 to $900 million. The restructure includes exiting the sugar cane business. In 2008, Monsanto paid $290 million to buy Brazilian company Aly to enhance its entry into the sugar-cane business – guess it didn't work out as planned. What effect will cutting almost 12 percent of its workforce have on Monsanto's employee morale and productivity?
Monsanto plans to spend $3 billion in the next six months to buy back its own stock (treasury stock). The effect of buying its own stock back is that it decreases the number of shareholders who share in the company's profits and equity. Are shareholders losing faith in the company? In times of uncertainty, should not the company keeps is cash (working capital) to pursue other profitable ventures and pay debt?
Monsanto just released its fiscal year-end financial reports as of 8/31/2015. Stockholder equity dropped by over $900 million. Net income was down by 16 percent or $437 million. Total debt that Monsanto is juggling is up by $864 million.
Monsanto expects to achieve a compound annual growth rate of 20 percent on its earnings per share in the years 2017, 2018 and 2019. May the universe have mercy on the remaining Monsanto employees that must achieve this goal with less help and a company with less cash.
Monsanto is the only corporation in the world to have an annual March Against Monsanto Day.
Monsanto has $194 million dollars of obligations relative to lawsuits it has lost.
The controversy over Monsanto's GMO crops and Round-up Ready herbicides has escalated to a point where there is outrage on the pro and con sides. The issues which have even polarized national politics and brought discord to the nation include:
Loss of seed diversity – replaced by patented mono-culture GMO seeds.
Efforts by states to get food labeled that contains GMO ingredients have been frustrated by the intervention of Monsanto and food manufacturers.
The toxicity to the environment and food from the use of Round-up (glyphosate) an herbicide that kills living plants. Monsanto GMO crops are not affected by the chemical glyphosate that kills grasses and broadleaf weeds.
Below is a short video clip of this march including statements from Bernie Sanders – who is running for U.S. President in the 2016 election. For those wanting to hear Knocking on Heaven's Door, the second video clip features Bob Dylan's original recording.
Want More? - Sign up below