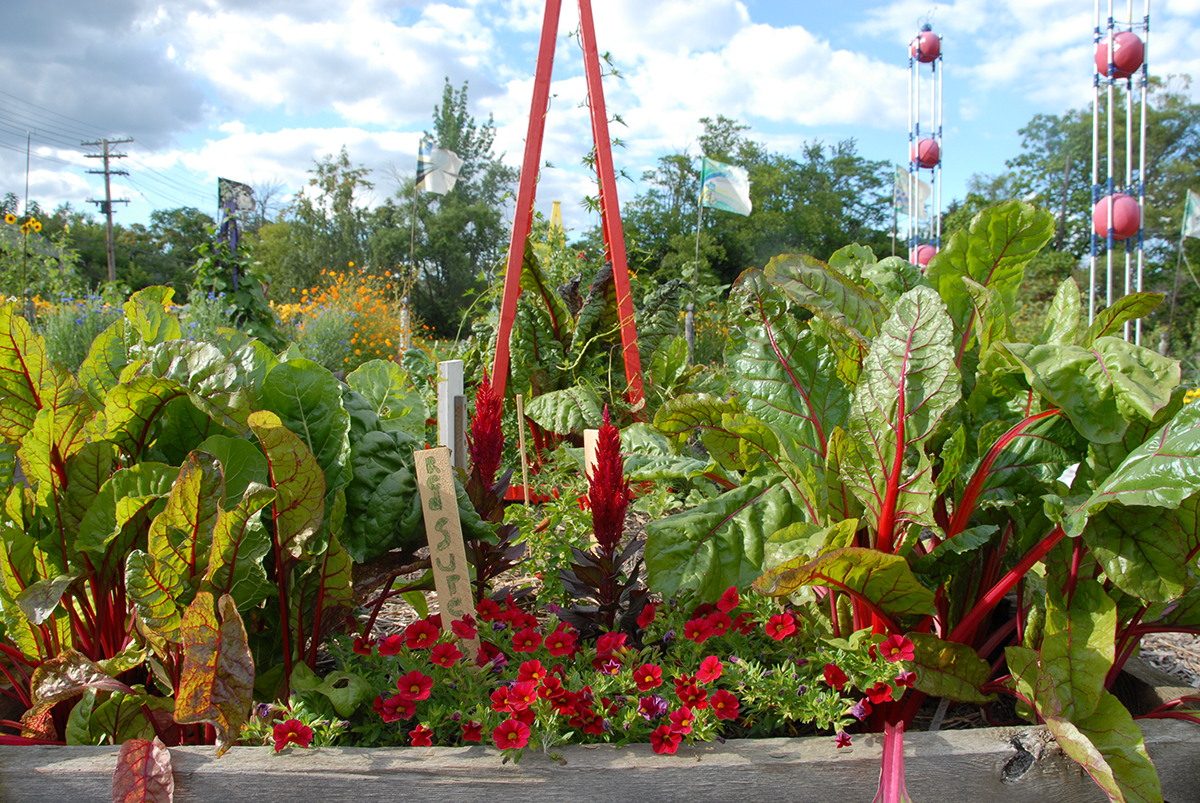 Touch the Soil News #292 – By Beth Hagenbuch
In the past, urban food and farming has often been an afterthought. Yards are converted to food gardens and urban lots retro-fitted into market gardens. We were lucky to get Beth Hagenbuch, a professional landscape architect, to write about the emerging trend of urban food and farming being designed in from the start. This story on urban food-landscape architecture reveals a new occupational direction.
Beth Hagenbuch is a Partner at Hagenbuch Weikal Landscape Architecture (HWLA), recipient of the 2012 American Society of Landscape Architects National Honor Award for Lafayette Greens Urban Garden in Detroit, Michigan, http://www.asla.org/2012awards/073.html and President of GrowTown  http://growtown.org, a non-profit landscape architecture studio dedicated to transforming neighborhoods and landscapes in post-industrial cities. GrowTown is a 2010 Buckminster Fuller International Challenge semi-finalist. GrowTown recently received a 2015 Kresge Innovative Projects: Detroit grant to develop the Penrose Market Garden.
Beth Hagenbuch, Partner at Hugenbuch Weikal Landscape Architecture in Detroit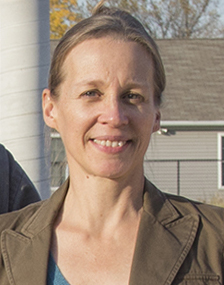 We already see an increase in our landscape architecture practice of interest in food producing landscapes. Cities everywhere are looking at food policy and zoning ordinances that help to integrate food production into the city on a variety of scales. The food movement is growing and with it a greater appreciation and interest in local agriculture. People of all economic levels appreciate real food that tastes great. People from all walks of life recognize the health benefits.
Food production landscapes in urban areas require a two-pronged approach; food production and urban design. As Debbie Millman of Design Matters eloquently puts it, "Effective design makes it possible for people to connect with each other." The whole basis of local food systems is that idea of connection to nature, to place and to each other.
The Penrose Market Garden Tunnel House - ready for 2016 (photo - Bruce Griffin)
What Landscape Architecture brings to the table is a whole-systems approach to the planning and design of food production. Food production infrastructure is a social-ecological system. At its best it is part of a web of complex interactions and feedback loops of economic, social and environmental systems.
Food-production infra-structure depends on how a site or a landscape functions on multiple levels. Functionality is extremely important for economic success and for social success—a place that is well-loved, often-used and aesthetically pleasing. Sustainability has to do with longevity. In the urban environment longevity can only be achieved through places that people enjoy and value. Economic longevity also depends on the efficiency of the site. Work flow, the ease of moving materials, waste and product in and out of a site, connections to customers and markets, how visitors and neighbors interact with the facility, the legibility of arrival and visitor spaces versus production space can all make or break urban food production.
The user experience matters. The engineering of stormwater management and drainage is crucial to the success of growing food and for effective water conservation. Design thinking is important to recognizing and finding good, urban appropriate solutions to farm/non-farm conflicts: traffic, noise, smells, storage and aesthetic perceptions. For all these reasons I believe that landscape architects will be increasingly involved in food-production infrastructure projects.
Neighborhood children play on the farmhouse terrace (photo-Bruce Griffin)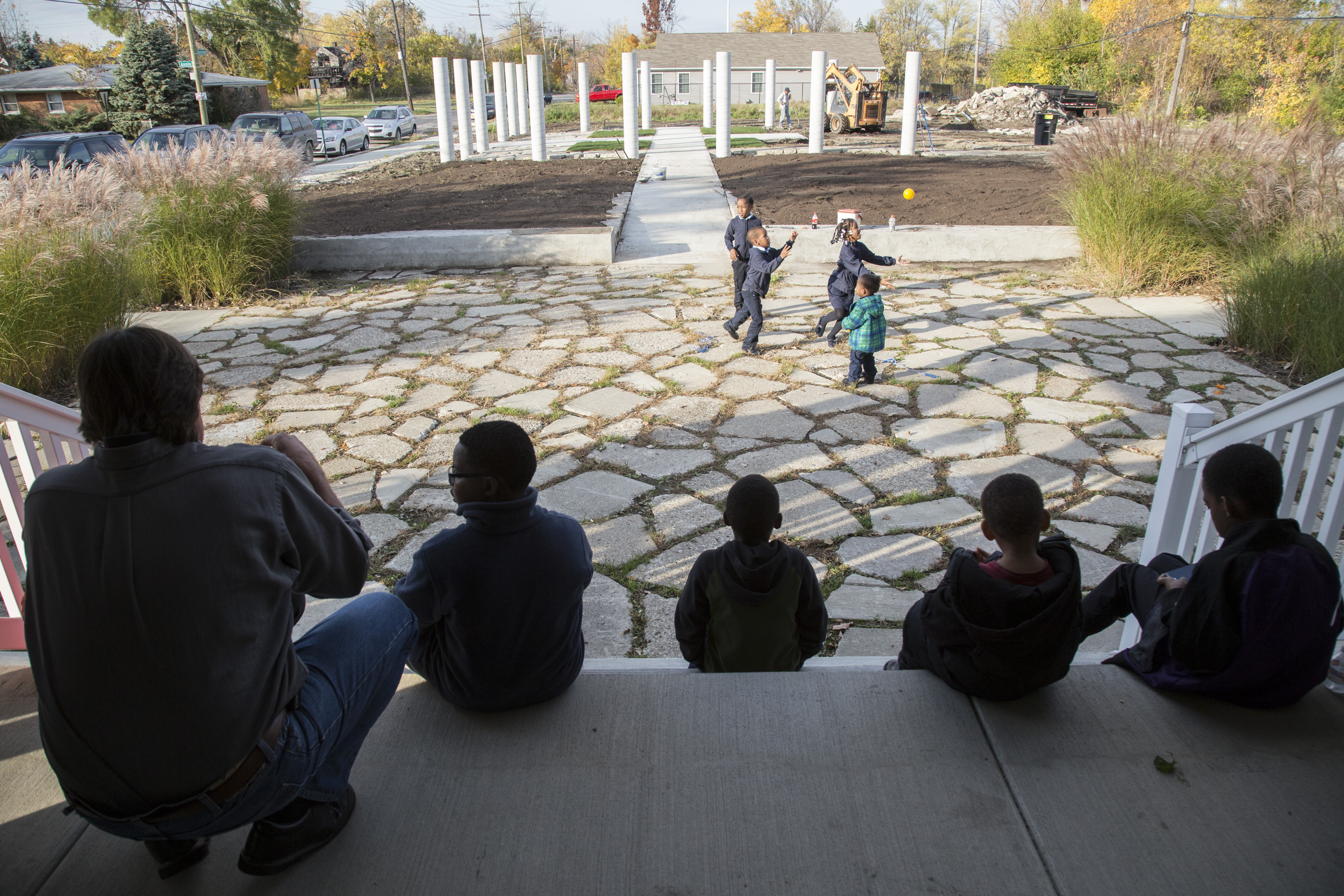 One of our projects, Lafayette Greens in downtown Detroit, illustrates how the design of food-production can be very site specific and multi-functional, even pushing the boundaries of how we think about urban agriculture and public space. https://www.asla.org/2012awards/073.html
The Penrose Market Garden https://www.facebook.com/Penrose-Market-Garden-221214407945813/ is an example of a working sub-acre farm business designed to provide place identity and a neighborhood center to an urban community affected by disinvestment. Rather than a random patchwork of redevelopment by chance, a neighborhood masterplan focusing development around the market garden and walkable connections to the local school, social services and business district came first. The role of landscape architecture in food-production landscapes begins with land use master planning and community engagement, individual site design and engineering, design of site details, and continues through the construction phase.
The large porch and wide steps at the Penrose Farmhouse (Photo - Beth Hagenbuch)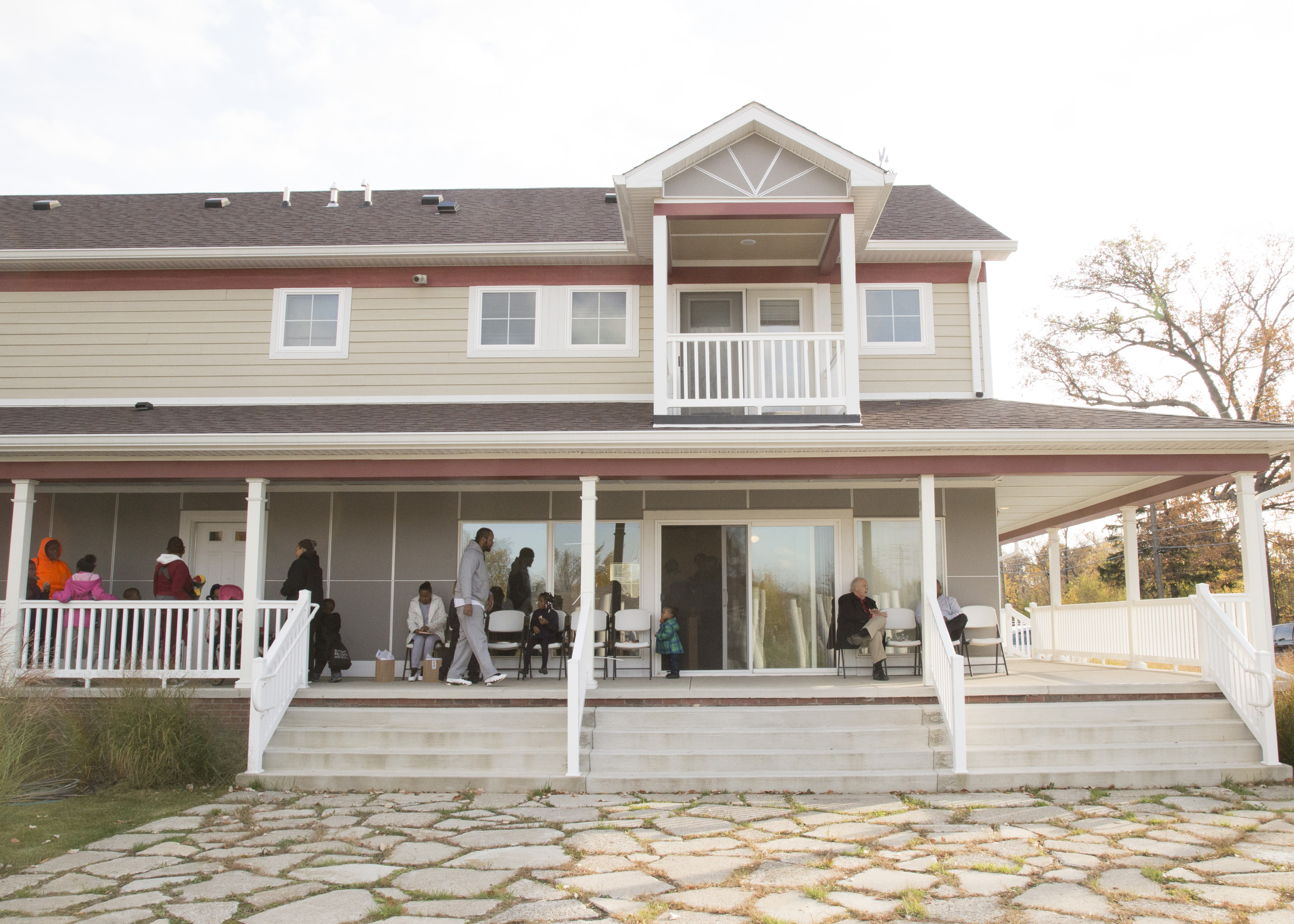 The Farmhouse is the Penrose Village Phase II community building and is the base of operations for the Market Garden. The Farmhouse is oriented towards the Market Garden with large sliding glass doors and a wrap around porch that looks out over the market garden and wide steps that lead to a community terrace for gathering, classes and events.
The first floor of the Farmhouse has community space for parties, events and classes, management offices and a community kitchen. The second floor contains two apartments for market garden growers, interns, students or labor. Equipment and tool storage, indoor work areas, a walk-in cooler, water access for irrigation, and housing are all incorporated into the Farmhouse to support a working market garden.
Community members who come to the Farmhouse for various reasons will be able to observe and interact with the market garden, growers and produce. Nutrition education for children and adults will take place this season at the Penrose campus, taking advantage of the indoor spaces like the community kitchen at the Farmhouse, outdoor public spaces adjacent to and within the market garden and the Art House facilities at the north side of the Market Garden.
Want More? - Sign up below